SISTEM PENDUKUNG KEPUTUSAN PENENTUAN GURU DAN PEGAWAI TERBAIK MENGGUNAKAN METODE SAW (SIMPLE ADDITIVE WEIGHTING) STUDI KASUS SMAS ISLAM ALULUM TERPADU MEDAN
Chairul Rizal;
Abstract
Sekolah merupakan salah satu dari lembaga formal yang berisikan akan sumber daya manusia-sumber daya manusia yang tentunya mempunyai kinerja yang berbeda-beda. Kinerja tersebut seharusnya diukur untuk diambil penilaian kinerjanya sesuai dengan kriteria yang telah ditentukan. Perlu adanya suatu sistem yang
bisa menjembatani permasalahan ini, dan sistem tersebut dinamakan Sistem Pendukung Keputusan. Metode yang digunakan adalah metode Simple Additive Weighting (SAW). Metode ini merupakan suatu metode yang mencari penjumlahan terbobot dengan studi kasus SMAS Islam Alulum Terpadu Medan. Pengukurannya terdapat empat kriteria yaitu prestasi, aktif, peduli lingkungan dan sehat. Setiap alternatif (guru dan pegawai) akan memiliki kriteria-kriteria tersebut. Dalam hal ini untuk menentukan guru dan pegawai terbaik dilakukan dengan cara menjumlahan bobot dari rating kinerja pada setiap alternatif untuk semua atribut. Nilai yang lebih besar akan mengindikasikan bahwa alternatif lebih terpilih. Sebelumnya di
SMAS Islam Alulum Terpadu Medan menggunakan satu kriteria untuk satu orang dan akan dikembangkan menjadi empat kriteria untuk satu orang, setelah diuji dengan sistem hasilnya sama. Dengan demikian sistem ini mampu menangani perhitungan penilaian guru dan pegawai terbaik di SMAS Islam Alulum Terpadu Medan sehingga tidak akan kesulitan dalam menentukan guru dan pegawai yang terbaik.
Downloads
Download data is not yet available.
References
[1] Anaz : (2010) Diambil 22 November 2010 dari http://www.scribd.com/AnazSistemPenduk ung Keputusan/d/46546807
[2] Fibriani,charitas: (2010) Diambil 10 November 2010 dari http://charitasfibriani.files.wordpress.com/2
010/11/pertemuan-8.pdf
[3] Fakeeh, K. A., & Ph, D. (2015). Decision Support Systems (DSS) in Higher Education System. International Journal of Applied Information Systems, 9 (2), 32–40.
[4] Kusumadewi, Sri, Hartati, S., Harjoko, A., dan Wardoyo, R. (2006). Fuzzy MultiAttribute Decision Making (FUZZY
MADM). Yogyakarta: Penerbit Graha Ilmu
[5] MADCOMS. (2008). PHP & MySQL.

[6] Nugroho, Bunafit. (2008). PHP dan MySQL dengan editor Dreamweaver MX.
Semarang: Andi
[7] Riduwan. 2010. Skala Pengukuran Variabel-Variabel Penelitian. Bandung: ALFABETA
[8] Saputro, H. (2003). Manajemen Database MySQL menggunakan MySQL Front. Jakarta:Elex Media Komputindo
[9] Wibowo, Henry: (2010). Seminar Nasional Aplikasi Teknologi Informasi 2009 (SNATI 2009)Diambil 22 November 2010 dari http://journal.uii.ac.id/index.php/Snati/articl e/view/1073/998
[10] Aspan, H., Fadlan, F., & Chikita, E. A. (2020). Perjanjian Pengangkutan Barang Loose Cargo Pada Perusahaan Kapal Bongkar Muat. Soumatera Law Review, 2(2), 322-334.
[11] Aryza, S., Irwanto, M., Lubis, Z., Siahaan, A. P. U., Rahim, R., & Furqan, M. (2018). A Novelty Design Of Minimization Of Electrical Losses In A Vector Controlled Induction Machine Drive. In IOP Conference Series: Materials Science and Engineering (Vol. 300, No. 1, p. 012067). IOP Publishing.
[12] Lubis, Z., & Aryza, S. (2017). Analisa Perancangan Penggunakan Mikrokontroler ATMega 8 Sebagai Pengendali dan Sensor Gerak untuk Pendeteksi Gerak Berbasis SMS. JET (Journal of Electrical Technology), 2(3), 66-71.
[13] Putri, M., & Aryza, S. (2018). Design Of Security Tools Using Sensor Light Dependent Resistor (Ldr) Through Mobile Phone. International Journal For Innovative Research In Multidisciplinary Field, 4(10), 168-173.
[14] Aryza, S., & Lubis, Z. (2019, November). Enhanced of Speed Monitoring Brushless DC (BLDC) Equipment and Controller Based on Arduino. In Journal of Physics: Conference Series (Vol. 1361, No. 1, p. 012049). IOP Publishing.
[15] Nasution, D., Harumy, T. H. F., Haryanto, E., Fachrizal, F., & Turnip, A. (2015, October). A classification method for prediction of qualitative properties of multivariate EEG-P300 signals. In 2015 International Conference on Automation, Cognitive Science, Optics, Micro Electro-Mechanical System, and Information Technology (ICACOMIT) (pp. 82-86). IEEE.
[16] Nasution, D., Nasution, D., & Lubis, S. A. (2019, November). Ehance A Methode Power System Policies Based On SCS (Solar Cell System). In Journal of Physics: Conference Series (Vol. 1361, No. 1, p. 012046). IOP Publishing.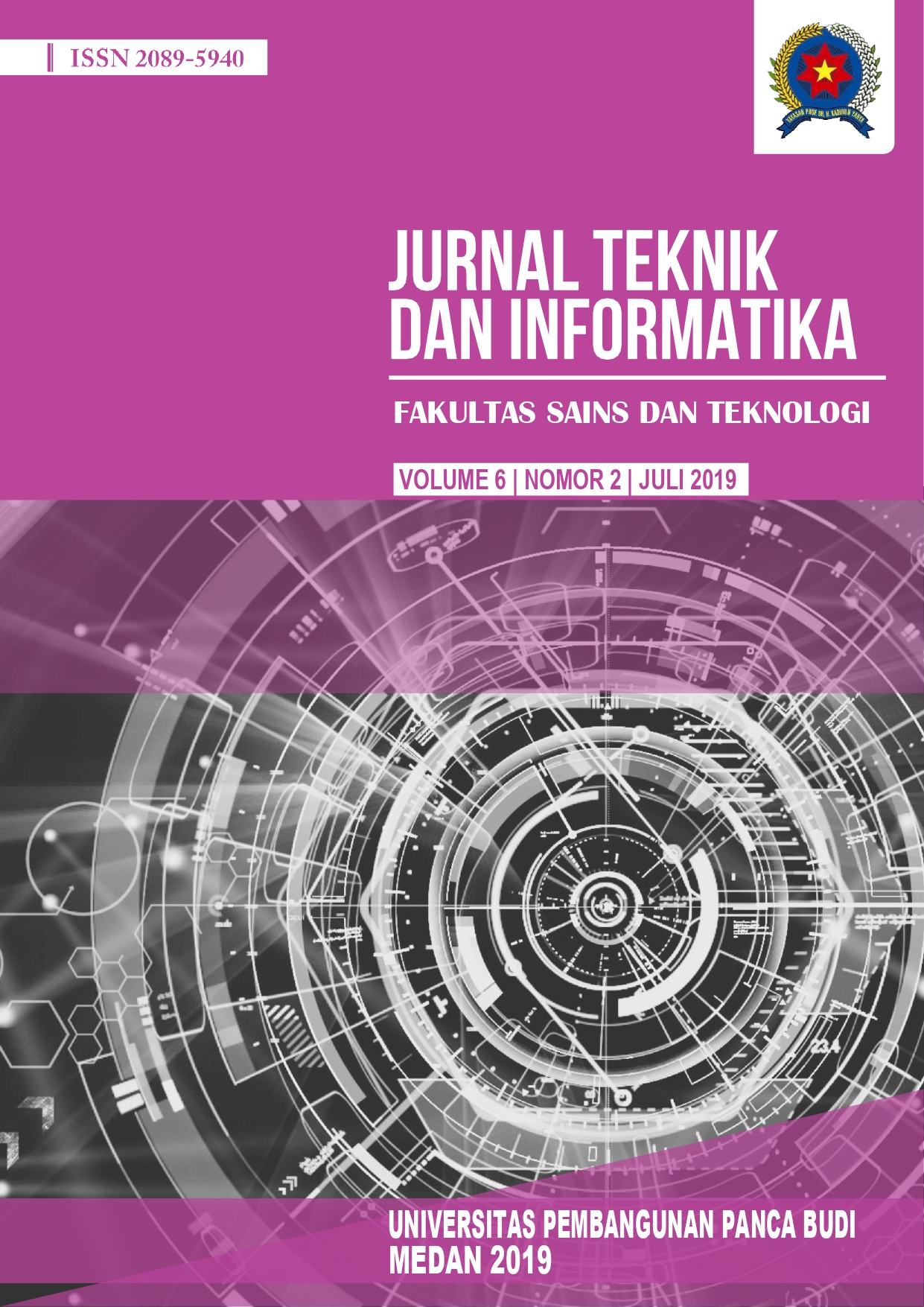 How to Cite
, Chairul Rizal. SISTEM PENDUKUNG KEPUTUSAN PENENTUAN GURU DAN PEGAWAI TERBAIK MENGGUNAKAN METODE SAW (SIMPLE ADDITIVE WEIGHTING) STUDI KASUS SMAS ISLAM ALULUM TERPADU MEDAN.
Jurnal Teknik dan Informatika
, [S.l.], v. 6, n. 2, p. 14-17, nov. 2019. ISSN 2089-5941. Available at: <
https://jurnal.pancabudi.ac.id/index.php/Juti/article/view/672
>. Date accessed: 27 nov. 2022.