LEGAL REVIEW OF LATE PAYMENT OF SYNDICATED BANK CREDIT AGREEMENTS DUE TO COVID-19
Rizkan Zulyadi

Universitas Medan Area

Zaini Munawir

Universitas Medan Area

Mahalia Nola Pohan

Universitas Medan Area
Abstract
Lenders in the form of loans provided by domestic or foreign lenders or banks. The lenders formed a syndication together to fund the borrower's business operations. The choice of law and the choice forum chosen largely determine the legal form for each party. How to arrange syndicated loans in Indonesia involving domestic and foreign bank participants, and the implementation of collateral in the implementation of syndicated loan agreements with banks? This type of research is normative, and prescriptive in law, providing legal arguments for international syndicated loan approvals in the framework of providing legal protection to lenders. The data used are secondary data obtained through literature study and analyzed qualitatively. International syndicated loan arrangements according to law in Indonesia do not apply legal lending limit if a primary bank is provided as a major bank that is included in one of the 200 (two hundred) major global banks determined by the banker's almanac. With the rise of the Covid-19 pendemik case, it has become a problem of delays in credit payments, including declining syndicated loan payments from domestic and foreign banks. The consideration of this paper is the question of syndicated loans in Indonesia involving domestic and foreign banks and also the implementation of legal options, Jurisdiction of Settlement of Syndicated Credit Disputes at Domestic and Foreign Banks, and legal protection against Congestion 19.
References
Efenti, Cherdina (2015). Kencenderungan Putusan-Putusan Hakim Pengadilan Terhadap Pencantuman
Klausula Eksonerasi Dalam Perjanjian. Medan: Program Studi Magister Ilmu Hukum Fakultas
Hukum Universitas Sumatera Utara.
Ganie, Junaedy (2013). Hukum Asuransi Indonesia. Jakarta: Sinar Grafika.
Murwadji, T (2013). Transformasi Jaminan Kebendaan Menjadi Jaminan Tunai Dalam Penjaminan
Kredit Sindikasi Internasional. Jurnal Hukum IUS QUIA IUSTUM NO. 1 VOL. 20 JANUARI
2013: 98 – 118.
Gautama, Sudargo (2010). Hukum Acara Perdata Internasional. Bandung: Alumni. Jilid III Bagian 2
Buku ke-8.
Muhammad, Abdulkadir (2010). Hukum Perusahaan Indonesia. Bandung: Citra Aditya Bakti.
Sembiring, Sentosa (2008). Hukum Perbankan. Bandung: Mandar Maju.
Budiono, Herlien (2006). Asas Keseimbangan Bagi Hukum Perjanjian Indonesia. Bandung: Citra
Adtya Bakti.
Andayani, Isetyowati (2005). Kekuatan Surat Bukti Perkawinan Yang Dilangsungkan Di Luar
Indonesia Setelah Didaftarkan Di Kantor Catatan Sipil. Jurnal Perspektif, Vol. X, No.3 Juli
Kurniawan, Fanny (2004). Penerapan Hak Jaminan Dalam Kepailitan, Analisis Yuridis Putusan
No.10/Pailit/2001/PN.Niaga/Jkt.Pst Dalam Perkara Kepailitan Bank Shinta Indonesia Melawan
Harry Susanto. Yogyakarta.
Badrulzaman, Mariam Darus (1983). Perjanjian Kredit Bank. Bandung: Alumni.
Soekanto, Soerjono (1996). Pengantar Penelitian Hukum. Jakarta: IU Press.
Sri Mamudji (1995). Penelitian Hukum Normatif Suatu Tinjaua. Jakarta: RajaGrafindo Persada.
S.S., Kusumaningtuti, dkk.( 2008). Pinjaman Sindikasi Luar Negeri. Jakarta: Pusat
Pendidikan dan Studi Kebanksentralan (PPSK)-Bank Indonesia, hal. 1.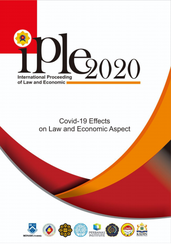 How to Cite
ZULYADI, Rizkan; MUNAWIR, Zaini; POHAN, Mahalia Nola. LEGAL REVIEW OF LATE PAYMENT OF SYNDICATED BANK CREDIT AGREEMENTS DUE TO COVID-19.
International Proceeding of Law and Economic
, [S.l.], p. 12-16, dec. 2020. Available at: <
https://jurnal.pancabudi.ac.id/index.php/iple/article/view/1074
>. Date accessed: 30 sep. 2023.