JURIDICAL ANALYSIS OF THE REGULATION MINISTRY OF LAW AND HUMAN RIGHTS NO 10 OF 2020 CONCERNING THE RELEASE OF CRIMINANTS IN THE COVID 19 PANDEMIC
Fitria Ramadhani Siregar

Universitas Pembangunan Panca Budi
Abstract
The solution to preventing the spread of Covid-19 is not to gather in crowded and crowded places. This solution can work with people who are free, but not with prisoners and prisoners. Prisoners who are serving sentences in correctional institutions can be said that their space is very limited because prisons in Indonesia can be said to be overcapacity. To overcome this problem, a policy was issued in the form of a regulation, namely the Minister of Law and Human Rights Regulation Number 10 of 2020, but this regulation is considered ineffective if it is implemented in Indonesia because prisoners who are released in the Covid-19 pandemic situation make the situation even more tense, because the inmates confess with new crimes for his survival. This research uses normative legal research methods. Normative legal research is literature-based research, the focus of which is to analyze primary and secondary legal materials. This research uses the method of collecting data by means of library research (Library Research). The policy of releasing prisoners in the midst of a pandemic as it is today is one of giving prisoners rights in the form of humanity. The policy of providing assimilation and integration to inmates in prisons and remand centers is also carried out on the recommendation of the United Nations for the whole world. the implementation of this, and resulted in the inmates committing new crimes for their survival as humans.
References
Barda Nawawi Arief (2010). Bunga Rampai Kebijakan Hukum Pidana, Bandung. PT. Citra Aditya
Bakti.
Irawan Soehartono (1999). Metode Peneltian Sosial Suatu Teknik Penelitian Bidang Kesejahteraan
Sosial Lainnya. Bandung: Remaja Rosda Karya.
Soerjono Soekanto. (2006). Pengantar Penelitian Hukum. Jakarta: Grafindo.
Sudaryono dan Natangsa Surbakti (2010). Hukum Pidana. Surakarta : Fakultas Hukum, Universitas
Muhammadiyah Surakarta.
Dr. Syaiful Bakhri, SH,MH (2018). Perkembangan Stelsel Pidana Indonesia. Buku Ajar, Total Mesia.
P.A.F. Lamintang dan C.Djisman Samosir (1983). Hukum Pidana Indonesia . Sinar Baru, Bandung.
Andi Febriansyah Alsabah (2017). Kebijakan Hukum Pidana Dalam Pemberantasan Tindak Pidana
Korupsi. Vol. 6 No. 1
Dian Rahadian (2017). Kebijakan Hukum Pidana Dalam Menanggulangi Tindak Pidana Politik.Vol. 2
N0. 1 .
Eyreine Tirza Priska Doodoh, "Kajian Terhadap Penjatuhan Pidana Bersyarat Dan Pengawasan
Menurut Kitab Undang-Undang Hukum Pidana" Lex et Societatis, Vol. I/No.2
Fahira Nesya, "Program Asimilasi di Tengah Pandemi: Sebuah Jalan Keluar yang Menjadi
Bumerang?, Jurnal Biro Komunikasi Anggota 9th Board of PLEADS.
Mohamad Anwar (2020). Asimilasi dan Peningkatan Kriminalitas Di Tengah Pembatasan Sosial
Berskala Besar Pandemi Corona. Jurnal Buletin Hukum dan Keadilan Volume 4 Nomor 1.
Nizar Apriansyah (2016). Peran Pemerintahan Dalam Pembentukan Kebijakan Hukum. IKH Vol. 10
No. 2 Juli.
Redha Wiradinata (2017). Pelaksanaan Pembebasan Bersyarat Terhadap Narapidana Pada Lembaga
Pemasyarakatan Klas II A Pontianak. vol. 4 no. 1
Rustam Akili (2019). Implementasi Pembentukan Kebijakan Hukum Melalui Proses Legislasi Dalam
Rangka Pembangunan Hukum. Vol 3 No, 2
Salman Lutham (2018). Kebijakan Kriminalisasi Dalam Reformasi Hukum Pidana. Vol. 6 No. 11
Trias Palupi Kurnianingrum (2020). Kontroversi Pembebasan Narapidana di Tengah Pandemi Covid19. Kajian Terhadap Isu Aktual dan Strategis, Vol. 12 No. 8
Artikel "Update Corona 7 April 2020 Indonesia & Dunia: Data Terbaru Covid-19",
https://tirto.id/eLzn,
Artikel "Eks Napi Program Asimilasi Jokowi Kembali Berulah, Apa Penyebabnya?",
https://tirto.id/eks-napi-program-asimilasi-jokowikembali-berulah-apa-penyebabnya-ePvS
Aditya Eriza Fahmi, " Wacana Pembebasan Narapidana di Saat Pandemi",
https://www.grid.id/read/042092288/,
Eva Safitri, "Cegah Penyebaran Covid-19" https://news.detik.com/berita/d-4960511/cegahpenyebaran-corona-30000-napi-akan-dibebaskan,
Gugus Tugas Covid-19, https://www.covid19.go.id/situasi-virus-corona/
https://palu.tribunnews.com/2020/04/04/najwa-shihab-emosi-dengar-wacana-yasonna-laoly-bebaskankoruptor-saat-wabah-corona-nanti-dulu?page=3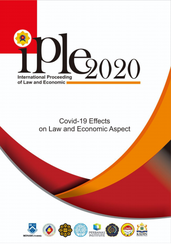 How to Cite
SIREGAR, Fitria Ramadhani. JURIDICAL ANALYSIS OF THE REGULATION MINISTRY OF LAW AND HUMAN RIGHTS NO 10 OF 2020 CONCERNING THE RELEASE OF CRIMINANTS IN THE COVID 19 PANDEMIC.
International Proceeding of Law and Economic
, [S.l.], p. 17-24, dec. 2020. Available at: <
https://jurnal.pancabudi.ac.id/index.php/iple/article/view/1076
>. Date accessed: 26 sep. 2023.