THE EFFECTIVENESS OF FISCAL INCENTIVE POLICY IN BONDED ZONES
Vahri Firmansyah

Directorate General of Customs and Excise, the Republic of Indonesia

Ratih Pratiwi

Directorate General of Customs and Excise, the Republic of Indonesia
Abstract
One of the government's efforts toward National Economic Recovery from the pandemic is to urge exports by giving fiscal incentives to companies in Bonded Zones. The companies given this facilitation have to commit themselves to growing the economy. This study aims to provide empirical evidence related to the effect of fiscal incentives in the form of suspension of customs duty and exchange rate, on exports. This is a quantitative study using multiple linear regression analysis using secondary data of 4 companies in Bonded Zones under Regional Office of the Directorate General of Customs and Excise, East Kalimantan between January 2019 and December 2021. The results show that fiscal facilitation has a positive and significant effect on exports value, whereas Rupiah exchange rate does not have any significant effect. This supports the government's effort in providing fiscal facilitation to companies in Bonded Zones by showing that it increases exports.
References
Babić, A. (2007). Paul R. Krugman, Maurice Obstfeld: International Economics: Theory and Policy. Financial Theory and Practice, 31(3), 317–318.
Boediono. (1999). Seri sinopsis pengantar ilmu ekonomi no. 2 : Ekonomi Makro. In BPFE.
Ghozali, I. (2016). Aplikasi Analisis Multivariate dengan Program IBM SPSS 23.
Ginting, A. M. (2013). Pengaruh Nilai Tukar Terhadap Ekspor Indonesia (The Influence of Exchange Rate on Indonesia's Exports). Buletin Ilmiah Litbang Perdagangan, 7(1).
Gujarati, D., & Madsen, J. (1995). Basic Econometrics, Fourth Edition. In Basics Econometrics.
Gumilar, G., Suyadi, I., & Agusti, R. R. (2015). PEMANFAATAN FASILITAS KEMUDAHAN IMPOR TUJUAN EKSPOR (KITE) UNTUK MENINGKATKAN EKSPOR DALAM NEGERI (STUDI PADA KANTOR WILAYAH DIREKTORAT JENDERAL BEA CUKAI JATIM I, SIDOARJO). Jurnal Mahasiswa Perpajakan, 6(2).
Kusnandar, V. B. (3 Oktober 2019). Rasio perdagangan Indonesia terhadap PDB terendah di ASEAN. https://databoks.katadata.co.id/datapublish/2019/10/03/rasio-perdagangan-indonesia-terhadap-pdb-terendah-di-asean
Mankiw, N. G. (2003). Teori Makro Ekonomi Terjemahan. Jakarta: PT. Gramedia Pustaka Utama.
Nabila, A., & Sriyanto, A. (2018). ANALISIS PENGARUH FASILITAS KITE TERHADAP NILAI EKSPOR (STUDI KASUS PERUSAHAAN PENERIMA FASILITAS KITE). JURNAL PERSPEKTIF BEA DAN CUKAI, 2(1). https://doi.org/10.31092/jpbc.v2i1.188
Peraturan Menteri Keuangan Nomor 65/PMK.04/2021 tanggal 10 Juni 2021 tentang Perubahan Atas Peraturan Menteri Keuangan Nomor 131/PMK.04/2018 tentang Kawasan Berikat
Pink, B. (15 Oktober 2019). BPS: Defisit neraca perdagangan disebabkan kinerja ekspor yang kurang ekspansif. Kontan.co.id. https://nasional.kontan.co.id/news/bps-defisit-neraca-perdagangan-disebabkan-kinerja-ekspor-yang-kurang-ekspansif
Putra, T. (3 Juni 2020). Rupiah terus menguat, Emiten mana saja yang diuntungkan. CNBC Indonesia. https://www.cnbcindonesia.com/market/20200603135454-17-162777/rupiah-terus-menguat-emiten-mana-saja-yang-diuntungkan
Putri, A. Sutrisni. (09 Februari 2019). Ekspor:Pengertian dan Manfaatnya. https://www.kompas.com/skola/read/2019/12/11/145215469/ekspor-pengertian-dan-manfaatnya?page=all
Republik Indonesia. Undang-Undang Kepabeanan. Undang-undang No.10 Tahun 1995 tentang Kepabeanan sebagaimana telah beberapa kali diubah terakhir dengan Undang-Undang No. 17 Tahun 2006.
Risma, O. R., Zulham, T., & Dawood, T. C. (2019). PENGARUH SUKU BUNGA, PRODUK DOMESTIK BRUTO DAN NILAI TUKAR TERHADAP EKSPOR DI INDONESIA. JURNAL PERSPEKTIF EKONOMI DARUSSALAM, 4(2). https://doi.org/10.24815/jped.v4i2.13027
Sukirno, S. (2009). Mikroekonomi Teori Pengantar Edisi Ketiga. In Mikroekonomi Teori Pengantar Edisi Ketiga.
Sulaiman, Richard, R., & Darmayuda. (2014). Analisis Pengaruh Suku Bunga Kredit dan Kurs Terhadap Ekspor Nonmigas Provinsi Riau. Faculty of Economic Riau University, Pekanbaru, Indonesia, 1(2), 1–17.
Ulfa, R., & Andriyani, D. (2019). Analisis Faktor-Faktor Yang Mempengaruhi Ekspor Komiditi Non Migas Di Indonesia Tahun 1985-2017. Jurnal Ekonomi Regional Unimal, 2(3), 128. https://doi.org/10.29103/jeru.v2i3.1712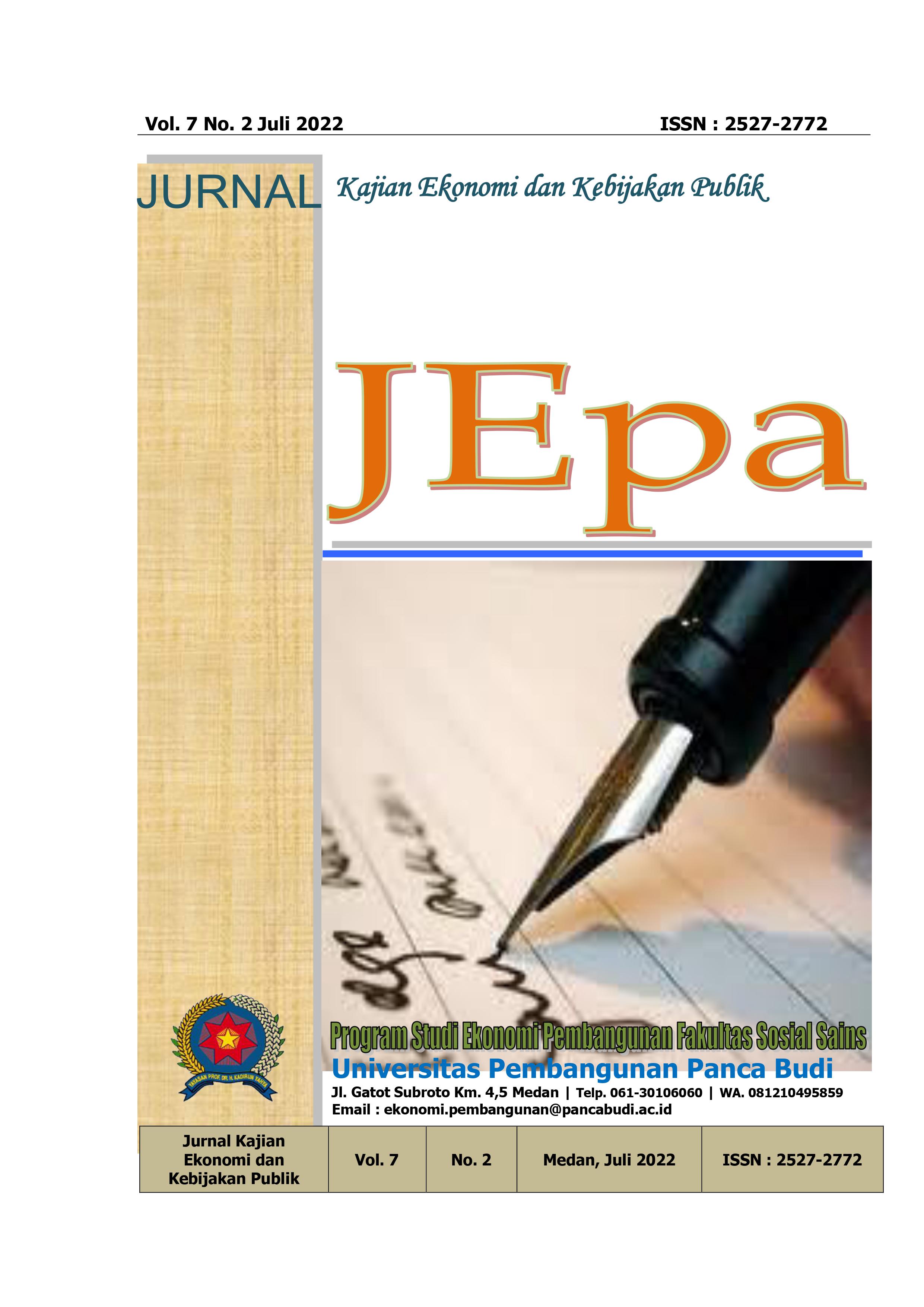 How to Cite
FIRMANSYAH, Vahri; PRATIWI, Ratih. THE EFFECTIVENESS OF FISCAL INCENTIVE POLICY IN BONDED ZONES.
Jurnal Kajian Ekonomi dan Kebijakan Publik (JEpa)
, [S.l.], v. 7, n. 2, p. 285-293, july 2022. ISSN 2527-2772. Available at: <
https://jurnal.pancabudi.ac.id/index.php/jepa/article/view/4205
>. Date accessed: 30 jan. 2023.