THE QUALITY OF SOAKING LAMB MEAT WITH BATAK ONION EXTRACT (Allium chinense G. Don)
Nur Asmaq

Universitas Pembangunan Panca Budi

Fachrina Wibowo

Universitas Pembangunan Panca Budi
Abstract
This study aims to determine lamb meat quality with Batak onion extract (A. chinense G. Don). The samples used in this study were Batak onions (A. chinense G. Don) and lamb. This study used an experimental method with a factorial completely randomized design with a 4 x 3 x 2 pattern. Factor A was the concentration of Batak onion extract (BOE), namely A0: without treatment, A1: 10% and A2: 20%, while factor B is the length of immersion, namely B0: 0 hours, B1: 1 hour and B2: 2 hours. Parameters observed in this study were water content, cooking loss and total bacterial colonies of lamb. The results obtained in this study showed that the analysis of variance for each variable was very significantly different (P<0.01) so it was continued using the Duncan Multiple Range's Test (DMRT) further test. Further test results showed a significant interaction (P<0.05) between Batak onion extract and soaking time on the observed parameters. The best values ​​of water content, pH and total colony were in treatment A2B1 with a value of 76.92%, 6.9 and A2B1 6 x 103 CFU/g, while the best cooking loss value was in treatment A1B1 with a value of 48%.
References
Andriani, Y. 2007. Uji Aktivitas Antioksidan Betaglukan dari Saccharomyces Cerevisiae. Jurnal Gradien. 3 (1) : 226-230.

AOAC. 2012. Official Methods of Analysis of AOAC International, 19th ed, USA.

Buckle, K.A, R.A Edwards, G.H. Fleet, and M. Wootton. 2007. Ilmu Pangan ( Food Science). Penerbit Universitas Indonesia UI-Press, Jakarta.

Dina, D, E. Soetrisno dan Warnoto. 2019. Pengaruh Perendaman Daging Sapi dengan Ekstrak Bunga Kecombrang (Etlingera elatior) terhadap Susut Masak, pH dan Organoleptik (Bau, Warna dan Tekstur). Jurnal Sain Peternakan Indonesia Vol. 12 No. 2 Hal. 209-220.

Fardiaz, S. 1989. Mikrobiologi Pangan. Departemen Pendidikan dan kebudayaan Direktorat Jendral Pendidikan Tinggi Pusat Antar Universitas Pangan dan Gizi. Institut Pertanian Bogor, Bogor.

Komariah, I. Arid dan Y. Wiguna. 20004. Kualitas fisik dan mikroba daging sapi ditambah jahe (Zingiber officinale Roscoe) pada konsentrasi dan lama penyimpanan yang berbeda. Media Peternakan. Fakultas Peternakan IPB, Bogor.

Lawrie, R. A. 2003. Ilmu Daging. Edisi ke-5. Terjemhan: Paraksi A. Dan A. Yudha. Universitas Indonesia, Jakarta.

Naibaho, F. G., Bintang, M., dan Pasarribu, F. H., 2015 Aktivitas Antimikroba Ekstra Bawang Batak (Allium Chinense G.Don).current biochemistry [online], 2 (3), 129-138.

Naidu, A.S dan P. M. Davidson. 2000. Phyto-phenols. In Naidu AS. Natural Food Antimicrobial System. CRC Press, New York.

Nurwanto, Septianingrum, dan Surhatayi. 2012. Buku Ajar Dasar Teknologi Hasil Ternak. Semarang: Universitas Diponegoro.

Rubiatik, S., Sartini dan R. Lubis. 2015. Skrining Fitokimia dan Uji Antimikroba Ekstrak Kasar Bawang Batak (Allium chinense) terhadap Bakteri Staphylococcus aures dan Escheriia coli. Biolink, Vol. 2 (1) Hal: 1-14.

Sipayung, M. 2020. Uji karakterisasi pada simplisia serbuk daun bawang batak (Allium chinense G. Don) di balai riset dan standardisasi industri medan. Tugas Akhir. Universitas Sumatera Utara, Medan.

Soeparno. 2005. Ilmu dan Teknologi Daging. Gadjah Madad University Press, Yogyakarta.

Soputan, J. E. M. 2004. Dendeng Sapi Sebagai Alternatif Pengawetan Daging . Makalah Pribadi Pengantar ke Falsafah . Institude Pertanian Bogor, Bogor.

Steel, R.G.D. dan J. H. Torrie. 1995. Prinsip dan Prosedur Statistika. Cetakan ke-5. Penerbit PT Gramedia Pustaka Utama, Jakarta.

Tambunan, R. D. 2009. Keempukan Daging dan Faktor-Faktor Yang Mempengaruhinya. Balai Pengkajian Teknologi Pertanian Lampung.

Tillman, A.D.H., Hartadi, S. Reksodiprodjo, Prawirakusumo, S. Labdosoekajo. 1989. Ilmu Makanan Ternak Dasar. Gajah Mada University Prees. Jakarta.

Waluyo, L., 2004. Mikrobiologi Umum, Malang. UMM Press.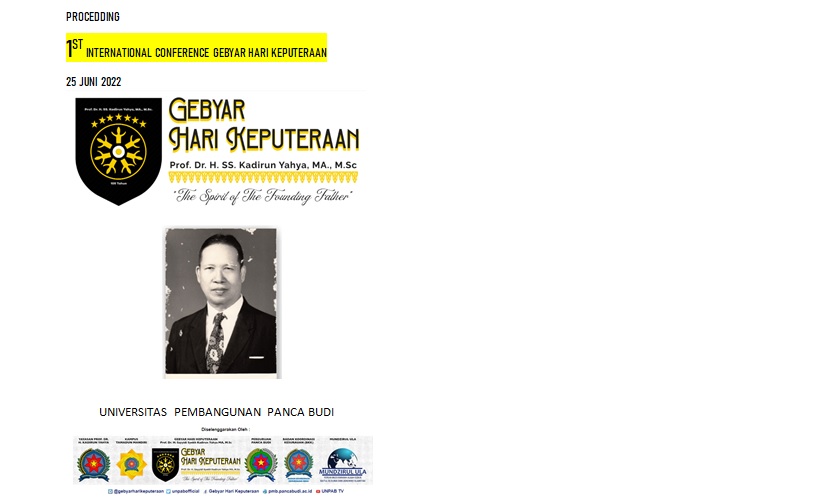 How to Cite
ASMAQ, Nur; WIBOWO, Fachrina. THE QUALITY OF SOAKING LAMB MEAT WITH BATAK ONION EXTRACT (Allium chinense G. Don).
Proceeding International Conference Keputeraan Prof. H. Kadirun Yahya
, [S.l.], v. 1, n. 1, p. 85-97, aug. 2022. ISSN 2961-7960. Available at: <
https://jurnal.pancabudi.ac.id/index.php/keputeraan/article/view/4278
>. Date accessed: 01 dec. 2023.