IMPROVEMENT OF SMART TOILET SYSTEM BASED ON RECYCLE GREEN CONTROL
Solly Aryza

Universitas Pembangunan Panca Budi

Siswa Pratama

Universitas Pembangunan Panca Budi

Muhammad Iqbal

Universitas Pembangunan Panca Budi
Abstract
Klambir 5 village is an underdeveloped area in North Sumatra in the current era of technology, technology is developing rapidly in the current era, along with the development of technology, there are impacts. Control of electronic equipment can be done with smart bathroom applications (smart badroom) controlling electronic equipment for water treatment is a very important requirement in the life of all living things, especially humans. In primary needs, water is used for drinking, washing, bathing and so on. In addition, water can also be used as a hydroelectric power plant, rice field irrigation system, transportation and others. The purpose of this study is to design a device that can control the output of water in the ablution tap and control the filling of the water reservoir. In designing this tool using Arduino Mega 2560 as data processor and keypad as well as water float sensor and Infrared Proximity Sensor as input and DC pump, relay and solenoid valve as output. With the design of this tool, it can fill the water reservoir automatically and can control the output of water in the ablution water faucet.
References
Aryza, S., Irwanto, M., Khairunizam, W., Lubis, Z., Putri, M., Ramadhan, A., Hulu, FN, Wibowo, P., Novalianda, S., & Rahim, R. ( 2018). An effect sensitivity harmonics of rotor induction motors based on fuzzy logic. International Journal of Engineering and Technology(UAE), 7(2.13 Special Issue 13), 418–420. https://doi.org/10.14419/ijet.v7i2.13.16936

Aryza, Solly. (nd). DESIGN SPEED ESTIMATION OF INDUCTION MOTOR DRIVES WITH DSP ( DIGITAL SIGNAL PROCESSING ) BASED ON NEURAL NETWORK. 1.

Depeursinge, A., Racoceanu, D., Iavinindrasana, J., Cohen, G., Platon, A., Poletti, P.-A., & Muller, H. (2010). Fusing Visual and Clinical Information for Lung Tissue Classification in HRCT Data. Artificial Intelligence in Medicine, 15, ARTMED1118. https://doi.org/10.1016/j

Deptt, E., & Jabalpur, JEC (2013). CONTROL OF STARTING CURRENT IN THREE PHASE Sharda Patwa. 01, 27–32.

Ilyas, RA, Sapuan, SM, Ishak, MR, & Zainudin, ES (2018). Development and characterization of sugar palm nanocrystalline cellulose reinforced sugar palm starch bionanocomposites. Carbohydrate Polymers, 202, 186–202. https://doi.org/10.1016/j.carbpol.2018.09.002

Leevijit, T., Prateepchaikul, G., Maliwan, K., Mompiboon, P., & Eiadtrong, S. (2017). Comparative properties and utilization of un-preheated degummed/esterified mixed crude palm oil-diesel blends in an agricultural engine. Renewable Energy, 101, 82–89. https://doi.org/10.1016/j.renene.2016.08.047

Misdawita, & Sari, AAPS (2013). Analysis of the Impact of Government Expenditures on Education, Health, and Subsidy Expenditures on Poverty in Indonesia. Journal of Economics & Public Policy, 4, 147–161. https://doi.org/10.22212/JEKP.V4I2.50

Santika, T., Wilson, KA, Budiharta, S., Law, EA, Poh, TM, Ancrenaz, M., Struebig, MJ, & Meijaard, E. (2019). Does oil palm agriculture help alleviate poverty? A multidimensional counterfactual assessment of oil palm development in Indonesia. World Development, 120, 105–117. https://doi.org/10.1016/j.worlddev.2019.04.012

Suryaputra P., A., Samopa, F., & Hindayanto, BC (2014). Internet Traffic Clustering And Analysis Using Fuzzy C Mean With Data Feature Extraction. Journal of Informatics, 12(1), 33–39. https://doi.org/10.9744/informatika.12.1.33-39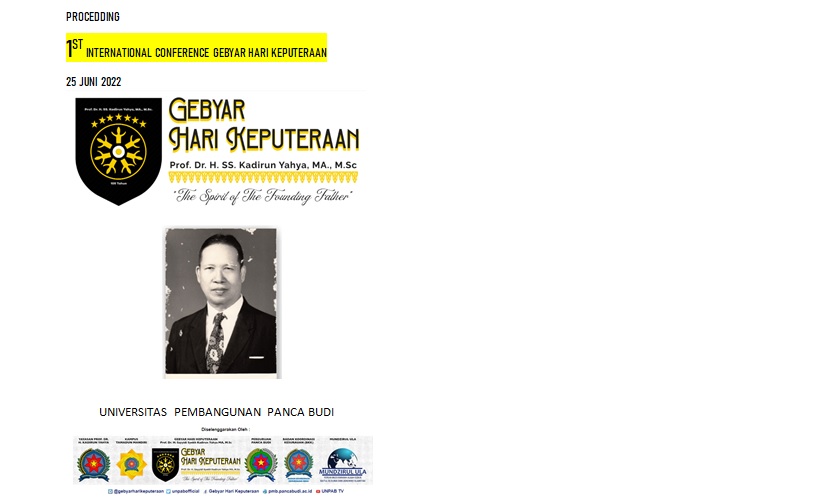 How to Cite
ARYZA, Solly; PRATAMA, Siswa; IQBAL, Muhammad. IMPROVEMENT OF SMART TOILET SYSTEM BASED ON RECYCLE GREEN CONTROL.
Proceeding International Conference Keputeraan Prof. H. Kadirun Yahya
, [S.l.], v. 1, n. 1, p. 189-196, aug. 2022. ISSN 2961-7960. Available at: <
https://jurnal.pancabudi.ac.id/index.php/keputeraan/article/view/4308
>. Date accessed: 01 dec. 2023.