THE EFFECT OF PROPERTY CREDIT INTEREST RATE AND INFLATION ON THE NPL OF THE PROPERTY SECTOR IN INDONESIA
Abdul Ghafar Islam

Universiti Sains Islam Malaysia Bandar Baru Nilai, 71800, Nilai, Negeri Sembilan, Malaysia
Abstract
In increasing the growth and production of shallots, proper cultivation techniques are needed, one of which is the use of several varieties of shallots and the application of banana waste POC. This study aims to determine the growth rate and production of several varieties of shallot plants due to the administration of banana waste POC. This research was conducted in Sunggal North Sumatra from February to April 2022. This study used a factorial randomized block design (RAK) with 2 factors. The first factor is the Variety test (V) which consists of V1 = Super Philips V2 = Bauji, V3 = Bima Brebes and V4 = Maja Cipanas. The second factor is the application of POC banana weeds (B) which consists of B0 = 0 ml/L water/plot, B1 = 150 ml/L water/plot, B2 = 300 ml/L water/plot and B3 = 450 ml/L water /plots.
References
Ariefianto, Moch. Doddy. 2012. Econometrics. Erlangga, Jakarta.
Ahmad Azhar, Bashir. 2000. Principles of Muamalat Law. UII Press, Yogyakarta. A. McCeachern, William. 2000,
Macroeconomics: A Contemporary Approach. Salemba Empat, Jakarta. Gujarati, Domar. 2003. Fourth edition of Basic
Econometrics. McGraw-Hill/Irvin. Ghozali, Imam. 2011. Application of Multivariate Analysis with the IBM SPSS Program
19.5th edition, Diponegoro University Publishing Agency, Semarang.
Cashmere. 2003. Fundamentals of Banking Edition 1. PT Raja Grafindo Persada, Jakarta.
Mishkin, Frederic S. 2008. Economics of Money, Banking and Financial Markets 8th edition. Salemba Empat, Jakarta.
Nachrowi and Hardius Usman. 2006. Popular and Practical Approaches to Econometrics for Economic and Financial
Analysis. University of Indonesia.
Nopirin. 1992. Monetary Economics Third Edition. BPFE, Yogyakarta.
Rivai, Veithzal, et al. 2007. Bank and Financial Institution Management 1st edition.
PT Raja Grafindo Persada, Jakarta.
Sukurno, Sadono. 2004. Introduction to Macroeconomic Theory, 3rd edition. Raja Grafindo
Persada, Jakarta.
Sutojo, Siswanto. 2007. New Edition Commercial Bank Credit Analysis. Publisher PT Damar Mulia Pustaka, Jakarta.
---------"Indonesian Economic Outlook 2009-2014". Bank Indonesia, Jakarta, 2009.
Bank Indonesia Regulation Number 18/16/PBI/2016 Concerning Loan To Value Ratios For Property Loans, Financing To
Value Ratios For Property Financing, And Down Payments For Motor Vehicle Loans Or Financing.
Decree of the Board of Directors of Bank Indonesia No. 30/12/KEP/DIR Law of the Republic of Indonesia Number 10 of
1998 concerning banking. www.bi.go.i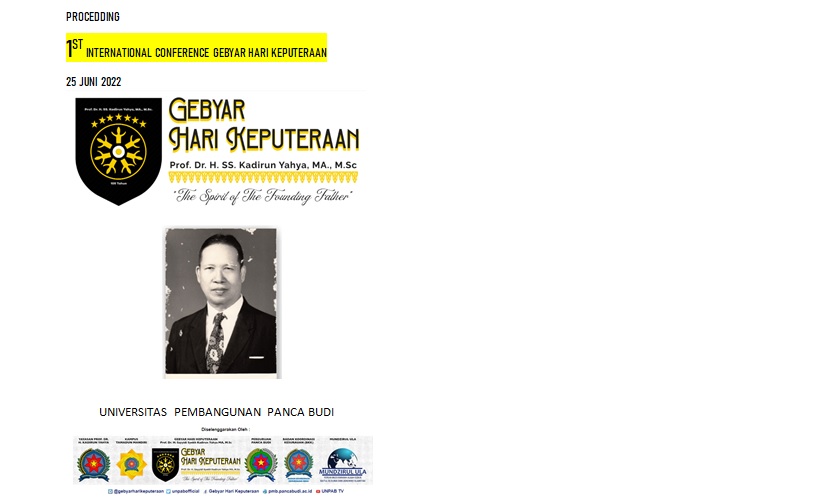 How to Cite
ISLAM, Abdul Ghafar. THE EFFECT OF PROPERTY CREDIT INTEREST RATE AND INFLATION ON THE NPL OF THE PROPERTY SECTOR IN INDONESIA.
Proceeding International Conference Keputeraan Prof. H. Kadirun Yahya
, [S.l.], v. 1, n. 1, p. 222-226, aug. 2022. ISSN 2961-7960. Available at: <
https://jurnal.pancabudi.ac.id/index.php/keputeraan/article/view/4322
>. Date accessed: 01 dec. 2023.