ANALYSIS OF THE UTILIZATION OF ZAKAT, INFAQ AND ALMS FUNDS IN RURAL AREAS
Hartato Rianto

Universitas Pembangunan Panca Budi

Miftah El Fikri

Universitas Pembangunan Panca Budi

Sakban Lubis

Universitas Pembangunan Panca Budi
Abstract
The purpose of this study was to analyze the distribution program of zakat infaq and alms in rural areas. The research method used is a qualitative method with observation and interview data collection techniques. Researchers will conduct observations and interviews with zakat institutions, beneficiary communities, . The results of this study indicate that the distribution of philanthropic funds from the city to the field has occurred in the form of animal husbandry and agriculture, the distribution of Islamic philanthropic funds in this form is considered very good but this distribution still requires innovation considering the enormous potential of the village.
References
Abodunrin, O., Oloye, G., & Adesola, B. (2020). Coronavirus Pandemic and Its Implication on Global Economy. International Journal of Arts, Languages and Business Studies (IJALBS), 4, 13–23.

Al Haq, M. A., & Abd. Wahab, N. B. (2017). Effective Zakat Distribution: Highlighting Few Issues and Gaps in Kedah, Malaysia. Al-Iqtishad: Journal of Islamic Economics, 9(2), 259–288. https://doi.org/10.15408/aiq.v9i2.4002

Ali, A. F. M., & Aziz, M. R. A. (2014). Zakat poverty line index and gender poverty in Malaysia: Some issues and practices. International Journal of Business and Social Science, 5(10), 286–293. http://ijbssnet.com/journals/Vol_5_No_10_September_2014/36.pdf

Ansori, M. H. (2020). Wabah COVID-19 dan Kelas Sosial di Indonesia. In Habibiecenter.or.Id (Issue 14). https://www.habibiecenter.or.id/

Barro, R. J., Ursua, J. F., & Weng, J. (2020). The Coronavirus and the Great Influenza Epidemic - Lessons from the "Spanish Flu" for the Coronavirus's Potential Effects on Mortality and Economic Activity (2020). CESifo Working Paper No. 8166.. In NBER Working Paper Series (No. 26866; Vol. 26866). http://www.nber.org/papers/w26866%0ANATIONAL

Bidin, Z., Idris, K. M., & Shamsudin, F. M. (2009). Predicting compliance intention on zakah on employment income in malaysia: An application of reasoned action theory. Jurnal Pengurusan, 28, 85–102. https://doi.org/10.17576/pengurusan-2009-28-05

Bonandar. (2018). Analisis Pengaruh Pendistribusian Zakat dan Pembinaan serta Pendampingan dalam Meningkatkan Kesejahteraan Pengusaha Kecil pada Rumah Zakat Kota Samarinda. Al-Tijary, 3(2), 197. https://doi.org/10.21093/at.v3i2.1132

Canggih, C., Fikriyah, K., & Yasin, A. (2017). Potensi Dan Realisasi Dana Zakat Indonesia. Al-Uqud : Journal of Islamic Economics, 1(1), 14. https://doi.org/10.26740/al uqud.v1n1.p14-26

Darmawati, D., & Nawarini, A. T. (2016). Potensi, Pencapaian Pengumpulan Zakat dan Permasalahannya di Kabupaten Banyumas dan Purbalingga. Al-Tijary, 1(2), 141–150. https://doi.org/10.21093/at.v1i2.531

Dimyati. (2018). Urgensi Zakat Produktif di Indonesia. Al-Tijary, 2(2), 189. https://doi.org/10.21093/at.v2i2.693

Djatmiko, H. (2019). Re-formulation zakat system as tax reduction in Indonesia. Indonesian Journal of Islam and Muslim Societies, 9(1), 135. https://doi.org/10.18326/ijims.v9i1.135-162

Doktoralina, C. M., & Bahar, Z. (2017). The Relationship between Income Household and Intention to Pay Zakat on Income among Indonesian Academicians Caturida Meiwanto Doktoralina Zakaria Bahari. Mediterranean Journal of Social Sciences, 8(4), 27–39. https://doi.org/10.1515/mjss-2017-0003

Doktoralina, C. M., Bahari, Z., & Abdullah, S. R. (2019). Mobilisation of Income Zakat Payment In Indonesia. Ikonomika, 3(2), 189–204. https://doi.org/10.24042/febi.v3i2.3659

Faisal. (2011). Sejarah Pengelolaan Zakat di Dunia Muslim Dan Indonesia (Pendekatan Teori Investigasi-Sejarah Charles Peirce dan Defisit Kebenaran Lieven Boeve). Analisis, 11(2), 241–272. https://media.neliti.com/media/publications/58323-ID-sejarah pengelolaan-zakat-di-dunia-musli.pdf
Fan, C., Li, K., Ding, Y., Lu, W. L., & Wang, J. (2020). ACE2 Expression in Kidney and Testis May Cause Kidney and Testis Damage After 2019-nCoV Infection. MedRxiv, 2020.02.12.20022418. https://doi.org/10.1101/2020.02.12.20022418

Fidaus, M., Beik, I. S., Irawan, T., & Juanda, B. (2012). Economic estimation and determinations of Zakat potential in Indonesia. Islamic Research and Training Institute., WP 1433-07(August), 1–74.

Fitri, M. (2017). Pengelolaan Zakat Produktif sebagai Instrumen Peningkatan Kesejahteraan Umat Maltuf Fitri Pendahuluan Zakat adalah kewajiban yang harus ditunaikan seorang. Economica: Jurnal Ekonomi Islam, 8, 149–173.

Haidir, M. S. (2019). Revitalisasi Pendistribusian Zakat Produktif Sebagai Upaya Pengentasan Kemiskinan di Era Modern. Muqtasid: Jurnal Ekonomi Dan Perbankan Syariah, 10(1), 57. https://doi.org/10.18326/muqtasid.v10i1.57-68

Hamid, A. R. A. H. (2020). Social responsibility of medical journal: A concern for covid-19 pandemic. Medical Journal of Indonesia, 29(1), 1–3. https://doi.org/10.13181/mji.ed.204629

Hanoatubun, S. (2020). DAMPAK COVID – 19 TERHADAP PEREKONOMIAN INDONESIA. Journal of Education, Psychology and Counseling, 2(11), 146–153.

Hidayat, T. (2013). MENIMBANG PEMIKIRAN MASDAR FARID MAS ' UDI TENTANG DOUBLE TAXS ( ZAKAT DAN PAJAK ) Menimbang Pemikiran Masdar Farid Mas ' udi tentang Doubel Taxs. Economica, IV(November 2013), 75–90.

Huda, N., Anggraini, D., Mardoni, K. M. A. Y., & Rini, N. (2014). PRIORITAS SOLUSI PERMASALAHAN PENGELOLAAN ZAKAT DENGAN METODE AHP (STUDI DI BANTEN DAN KALIMANTAN SELATAN). Al-Iqtishad, 5(2), 223–238.

Hudayati, A., & Tohirin, A. (2010). Management of Zakah : Centralised Vs Decentralised Approach. Seventh International Conference – The Tawhidi Epistemology: Zakat and Waqf Economy, Bangi 2010, January 2010, 351–374.

Ibrahim, D., & RuziahGhazali, D. (2014). Zakah as an Islamic Micro-Financing Mechanism to Productive Zakah Recipients. Asian Economic and Financial Review, 4(1), 117-125., 4(1), 117–125. http://www.pakinsight.com/pdf-files/aefr 4(1), 117-125.pdf

Ivanov, D. (2020). Predicting the impacts of epidemic outbreaks on global supply chains: A simulation-based analysis on the coronavirus outbreak (COVID-19/SARS-CoV-2) case. Transportation Research Part E: Logistics and Transportation Review, 136(March), 101922. https://doi.org/10.1016/j.tre.2020.101922

Jarnawi. (2020). MENGELOLA CEMAS DI TENGAH PANDEMI CORONA. At-Taujih, 3(1), 60–73.

Kaila, R.P. & Prasad, A. V. K. (2020). Informational Flow on Twitter - Corona Virus Outbreak – Topic. International Journal of Advanced Research in Engineering and Technology, 11(3), 128–134.

Kusmanto, A. (2014). Peran Lembaga Amil Zakat Nasional Dalam Penghimpunan Dana Zakat, Infaq, dan Shodaqoh. Pandecta: Research Law Journal, 9(2), 292. https://doi.org/10.15294/pandecta.v9i2.3581

Latief, H. (2013). Islamic philanthropy and the private sector in Indonesia. Indonesian Journal of Islam and Muslim Societies, 3(2), 175–201. https://doi.org/10.18326/ijims.v3i2.175 201

Li, Z., Wu, M., Yao, J., Guo, J., Liao, X., Song, S., Li, J., Duan, G., Zhou, Y., Wu, X., Zhou, Z., Wang, T., Hu, M., Chen, X., Fu, Y., Lei, C., Dong, H., Xu, C., Hu, Y., … Yan, J. (2020). Caution on Kidney Dysfunctions of COVID-19 Patients. SSRN Electronic Journal, 1 25. https://doi.org/10.2139/ssrn.3559601

Liu, K., Fang, Y. Y., Deng, Y., Liu, W., Wang, M. F., Ma, J. P., Xiao, W., Wang, Y. N., Zhong, M. H., Li, C. H., Li, G. C., & Liu, H. G. (2020). Clinical characteristics of novel coronavirus cases in tertiary hospitals in Hubei Province. Chinese Medical Journal, 133(9), 1025–1031. https://doi.org/10.1097/CM9.0000000000000744

Mubarok, A., & Fanani, B. (2014). PENGHIMPUNAN DANA ZAKAT NASIONAL (Potensi, Realisasi dan Peran Penting Organisasi Pengelola Zakat). Permana, 5(2), 7–16.

Muthohar, A. M. (2016). Preferensi Masyarakat Terhadap Lembaga Zakat Dan Bentuk-Bentuk Pemberdayaan Dana Zakat. Inferensi, 10(2), 381. https://doi.org/10.18326/infsl3.v10i2.381-404

Niranjanamurthy, M., Amulya, M. P., Dayananda, P., & Pradeep, H. G. (2020). Coronavirus COVID-19 before and after solution through web application and app. International Journal of Advanced Science and Technology, 29(5 Special Issue), 27–41.

Pradana, A. A., Casman, & Nur'aini. (2020). PENGARUH KEBIJAKAN SOCIAL DISTANCING PADA WABAH COVID-19 TERHADAP KELOMPOK RENTAN DI INDONESIA. JURNAL KEBIJAKAN KESEHATAN INDONESIA, 9(1), 34–39.

Pratama, Y. C. (2015). PERAN ZAKAT DALAM PENANGGULANGAN KEMISKINAN ( Studi Kasus : Program Zakat Produktif Pada Badan Amil Zakat Nasional ). The Journal of Tauhidinomics, 1(1), 93–104.

Puskas Baznas. (2019). Zakat Outlook 2019 (Issue December 2018).

Ridwan, M. (2016). Zakat Vs Pajak: Studi Perbandingan Di Beberapa Negara Muslim. ZISWAF : Jurnal Zakat Dan Wakaf, 1(1), 1–22.

Rodin, D. (2016). Pemberdayaan Ekonomi Fakir Miskin Dalam Perspektif Al-Qur'an. Economica: Jurnal Ekonomi Islam, 6(1), 71. https://doi.org/10.21580/economica.2015.6.1.787

Saad, R. A. J., Sawandi, N., & Mohammad, R. (2016). Zakat surplus funds management. International Journal of Economics and Financial Issues, 6(7Special Issue), 171–176.

Team, C. C.-19 R., & Community. (2020). Geographic Differences in COVID-19 Cases , Deaths , and Incidence —. Morbidity and Mortality Weekly Report, 69.
Viruses, C. S. G. of the I. C. on T. of. (2019). The species Severe acute respiratory syndrome related coronavirus: classifying 2019-nCoV and naming it SARS-CoV-2. Nature Microbiology, Box 1. https://doi.org/10.1038/s41564-020-0695-z

Widiastuti, T., & Rosyidi, S. (2015). Model Pendayagunaan Zakat Produktif oleh Lembaga Zakat dalam Meningkatkan Pendapatan Mustahiq. Jurnal Ekonomi Dan Bisnis Islam, 1(1), 89–102. https://doi.org/10.20473/JEBIS.V1I1.1424

World Health Organization (WHO). (2020). Novel coronavirus - China 11-fev 2020. Novel Coronavirus(2019-NCoV) Situation Report – 22, 11 February 2020. https://www.who.int/docs/default-source/coronaviruse/situation-reports/20200211 sitrep-22-ncov.pdf?sfvrsn=fb6d49b1_2.

Xu, X., Chen, P., Wang, J., Feng, J., Zhou, H., Li, X., Zhong, W., & Hao, P. (2020). Evolution of the novel coronavirus from the ongoing Wuhan outbreak and modeling of its spike protein for risk of human transmission. Science China Life Sciences, 63(3), 457–460. https://doi.org/10.1007/s11427-020-1637-5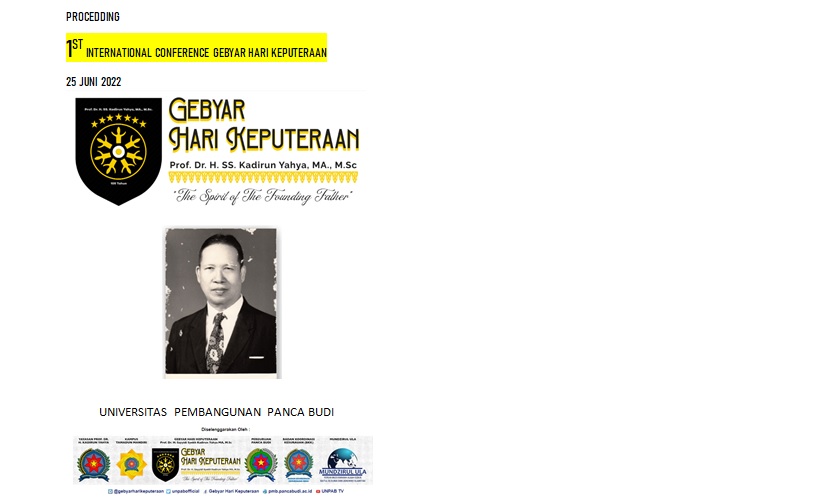 How to Cite
RIANTO, Hartato; FIKRI, Miftah El; LUBIS, Sakban. ANALYSIS OF THE UTILIZATION OF ZAKAT, INFAQ AND ALMS FUNDS IN RURAL AREAS.
Proceeding International Conference Keputeraan Prof. H. Kadirun Yahya
, [S.l.], v. 1, n. 1, p. 252-260, aug. 2022. ISSN 2961-7960. Available at: <
https://jurnal.pancabudi.ac.id/index.php/keputeraan/article/view/4342
>. Date accessed: 01 dec. 2023.