IMPACT FACTORS IMPLEMENTATION REVIEW DURING PANDEMIC, ORGANIZATIONS IN LODGING ADMINISTRATION IN SIBOLGA CITY
Hendra Saputra

Universitas Pembangunan Panca Budi

Ayu Kurnia Sari

Universitas Pembangunan Panca Budi

Ku Halim Bin Ku Arifin

University Malaysia Perlis

Aulia Aulia

Universitas Pembangunan Panca Budi
Abstract
Many elements impact the evaluator in satisfying their obligations of assessing the reviewer. One of the variables affecting an inspector's choice is the part of the examiner's singular way of behaving. Notable evaluating research establishments have shown that various variables impact an examiner's choice at a singular level. Many investigations have additionally been led into the way of behaving of individual reviewers. Has concentrated on how the impact of orientation, dutifulness tension and undertaking intricacy influences evaluator judgment. The consequences of the review express that dutifulness pressure essentially affects the examiner's judgment, task intricacy fundamentally affects the inspector's judgment. Furthermore, in general, autonomous factors, specifically dutifulness strain and errand intricacy, impact the reliant variable, in particular evaluator judgment/examiner execution.
References
Bhagat, Sanjai, & Black, Bernard. (2001). The non-correlation between board independence and long-term firm performance. J. CorP. L., 27, 231.

Cheng, Jie, Fan, DongBo, Wang, Hao, Liu, BingWei, Zhang, YongCai, & Yan, Hui. (2003). Chemical bath deposition of crystalline ZnS thin films. Semiconductor Science and Technology, 18(7), 676.

Chung, Janne, & Monroe, Gary S. (2001). A research note on the effects of gender and task complexity on an audit judgment. Behavioral Research in Accounting, 13(1), 111–125.

Den Hartog, Deanne N., House, Robert J., Hanges, Paul J., Ruiz-Quintanilla, S. Antonio, Dorfman, Peter W., Abdalla, Ikhlas A., Adetoun, Babajide Samuel, Aditya, Ram N., Agourram, Hafid, & Akande, Adebowale. (1999). Culture specific and cross-culturally generalizable implicit leadership theories: Are attributes of charismatic/transformational leadership universally endorsed? The Leadership Quarterly, 10(2), 219–256.

Dewi, Ratih Kartika, & Zulaikha, Zulaikha. (2011). Analisa Faktor-faktor yang Mempengaruhi Praktik Perataan Laba (Income Smoothing) pada Perusahaan Manufaktur dan Keuangan yang Terdaftar di BEI (2006-2009). Universitas Diponegoro.

Habibi, Muhammad Ridha. (2009). Pengaruh Tekanan Ketaatan, Independensi Auditor, dan Kompleksitas Tugas terhadap Judgment Auditor pada Kantor Akuntan Publik di Medan. Google Scholar

Jamilah, Siti, Fanani, Zaenal, & Chandrarin, Grahita. (2007). Pengaruh gender, tekanan ketaatan, dan kompleksitas tugas terhadap audit judgment.
Simposium Nasional Akuntansi X, 1. Google Scholar

Mulyadi, Lanny. (1998). Pengaruh Kualitas Produk Terhadap Kepuasan Pelanggan Telepon Selular Ericson GF 788 Di Surabaya. Google Scholar

NATASYA, NOVIA. (2012). PENGARUH TEKANAN KETAATAN, KOMPLEKSITAS TUGAS DAN PENGALAMAN TERHADAP
AUDIT JUDGMENT. Universitas Pelita Harapan Surabaya-Faculty Of Business School-Department Of. Google Scholar

Nugrahaningsih, Putri. (2005). Analisis perbedaan perilaku etis auditor di KAP dalam etika profesi (Studi terhadap peran faktor-faktor individual: locus of control, lama pengalaman kerja, gender, dan equity sensitivity). Google Scholar

Trisnaningsih, Sri. (2007). Independensi auditor dan komitmen organisasi sebagai mediasi pengaruh pemahaman good governance, gaya kepemimpinan dan budaya organisasi terhadap kinerja auditor. Simposium Nasional Akuntansi X, 10, 1–56. Google Scholar

Umar, Husein. (2008). Desain Penelitian Akuntansi Keperilakuan. Jakarta: PT Raja Grafindo Persada.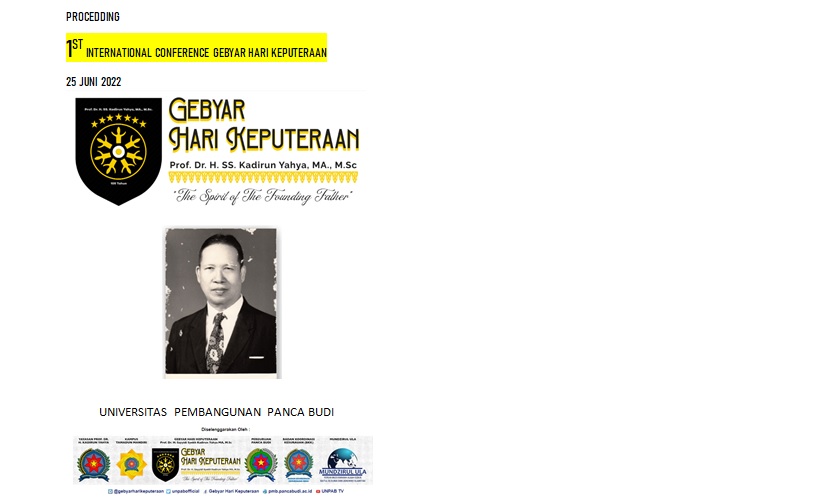 How to Cite
SAPUTRA, Hendra et al. IMPACT FACTORS IMPLEMENTATION REVIEW DURING PANDEMIC, ORGANIZATIONS IN LODGING ADMINISTRATION IN SIBOLGA CITY.
Proceeding International Conference Keputeraan Prof. H. Kadirun Yahya
, [S.l.], v. 1, n. 1, p. 265-272, aug. 2022. ISSN 2961-7960. Available at: <
https://jurnal.pancabudi.ac.id/index.php/keputeraan/article/view/4344
>. Date accessed: 01 dec. 2023.