ANALYSIS OF PERSPECTIVES AND PRACTICES OF ZAKAT ON AGRICULTURAL OR PLANTATION PRODUCTS OF THE MUSLIM COMMUNITY OF LAU GUMBA VILLAGE
Hartato Rianto

Universitas Pembangunan Panca Budi

Syahrial Hasanuddin Pohan

Universitas Pembangunan Panca Budi

Sakban Lubis

Universitas Pembangunan Panca Budi
Abstract
This study aims to find out how the understanding and implementation of zakat, infaq, alms for the Muslim community in Lau Gumba Village. Formulate the advantages and disadvantages of the understanding and implementation of zakat by the community, so that this research can be used as an ingredient in evaluating the community's self by adjusting to Islamic law, and can be a reference for other researchers in research on the development of Islamic philanthropy. Researchers used primary data by conducting research on Muslim communities in Lau Gumba Village with conducting interviews, observations and distributing available questionnaires. The data obtained will be analyzed qualitatively using descriptive analytic. The results of this study indicate that the understanding of Muslim farmers in Lau Gumba Village regarding agricultural zakat is still general, Muslim farmers have not been able to calculate agricultural zakat in accordance with Islamic law. The implementation of the distribution of Islamic philanthropic funds is also done traditionally.
References
Ahmad Husnan. 1996.Zakat Menurut Sunnah dan Zakat Model Baru, Jakarta: Pustaka Al Kautstar.

Departemen Agama. 1996.Pedoman Zakat 9 Seri, Jakarta: Departemen Agama,

Didin Hafidhuddin. 2002.Zakat dalam Perekonomian Modern, Jakarta: Gema Insani.

Fahrur. 2011.ZakatA-ZPanduan Mudah,Lengkap, danPraktisTentangZakat, Solo: PT Tiga Serangkai Pustaka Mandiri

Fakhr ar-Razi, at-Tafsir al-Kabir,jilid XVI.

Hasbi Ash Shiddiqie. 1984.Pedoman Zakat, Jakarta: Bulan Bintang.

Imam Al-Mawardi. 2007.Al Ahkam As Sulthaniyyah (Hukum-Hukum Penyelenggaraan Negara), terj. Bahri Fadli, Jakarta: Darul Falah.

Mohamad daud Ali dan Habibah Daud. 1995.Lembaga-lembaga Islam di Indonesia, Jakarta: Raja Grafindo Persada.

Mahmud Syaltut. 1996. al-fatawa, Kairo, Dar Al-Qalam.

M. Daud Ali. 1988.Sistem Ekonomi Islam Zakat dan Wakaf, Jakarta: UI Press.

Mursyid, Mekanisme Pengumpulan Zakat, Infak, dan Shadaqah, Yogyakarta: Magistra Insania Press.

Muhammad Sanusi. 2009.The Power of Sedekah,Yogyakarta :Pustaka Insan Madani.

M.Irfanel-Firdausy. 2009. Dahsyatnya Sedekah Meraih Berkah Dari Sedekah, Yogyakarta:Cemerlang Publishing.

Mohd. Izzah Daruza, Sira al-Rasul: Shurah Muqtabasah min al-Qur'an alKarim,

Muhammad,& Ridwan Mas"ud. 2005.Zakat dan Kemiskinan, Instrumen Pemberdayaan Ekonomi Umat, Yogyakarta: UII Press

M. Masykur Khoir. 2010.Risalah Zakat, Kediri: Duta Karya Mandiri. Tafsir at-Tabari, jilid XIV, penerbit al-Ma"arif.

Tafsir al_Qurtubi, Jilid VIII:244. dan lihat pula Tafsir Ibnu Katsir, jilid II.

Undang-Undang Nomor 23 Tahun 2011 tentang Pengelolaan Zakat

Wahbah Az Zuhayly. 1995.Zakat Kajian Berbagai Mazhab, terj, Bandung: PT Remaja Rosda Karya.

Yusuf Qardawi. 1999. Hukum Zakat, Bogor: Litera Antar Nusa.

Yusuf Qardawi. 2007.Norma dan Etika Ekonomi Islam, Jakarta: Gema Insani Press.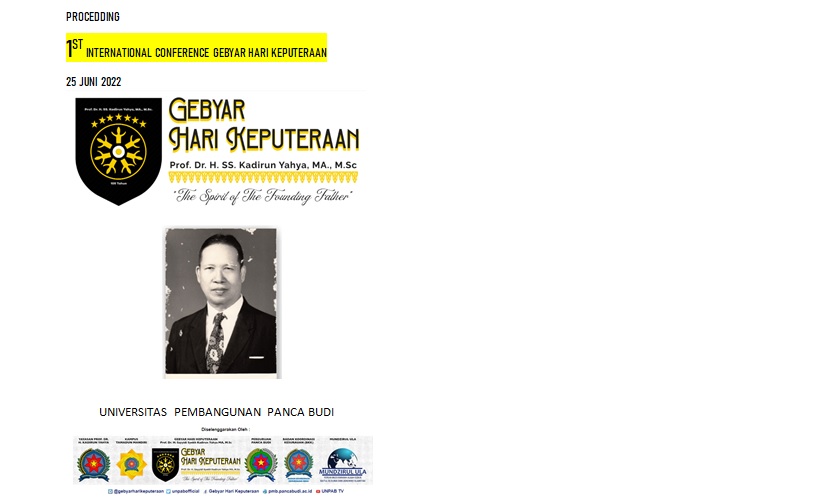 How to Cite
RIANTO, Hartato; POHAN, Syahrial Hasanuddin; LUBIS, Sakban. ANALYSIS OF PERSPECTIVES AND PRACTICES OF ZAKAT ON AGRICULTURAL OR PLANTATION PRODUCTS OF THE MUSLIM COMMUNITY OF LAU GUMBA VILLAGE.
Proceeding International Conference Keputeraan Prof. H. Kadirun Yahya
, [S.l.], v. 1, n. 1, p. 273-280, aug. 2022. ISSN 2961-7960. Available at: <
https://jurnal.pancabudi.ac.id/index.php/keputeraan/article/view/4345
>. Date accessed: 01 dec. 2023.