THE ROLE OF MANGROVE MANAGEMENT ACTORS AND STAKEHOLDER INSTITUTIONS IN LUBUK KERTANG VILLAGE
Farid Aulia

Universitas Sumatera Utara

Agustrisno Agustrisno

Universitas Sumatera Utara
Abstract
This research examines the role of actors and stakeholder institutions in managing mangroves in Lubuk Kertang Village. Mangrove forests are managed based on a social forestry partnership principle license issued by the Ministry of Environment and Forestry. The Mekar Group and several other non-governmental groups, as institutions that have been given management permits, have managed the existing condition of existing mangrove forests. Mangrove forest management involves the participation of local communities as actors in developing mangrove forests into ecotourism areas. This study aims to identify stakeholder actors and institutions and the extent of their respective roles in the management of Lubuk Kertang mangrove ecotourism. The research method used is qualitative by using descriptive analysis to analyze the role of actors and institutions of interest in managing mangrove ecotourism in Lubuk Kertang Village.
References
Basyuni M, Bimantara Y, Selamet B, dan Thoha AS. 2016. Identifikasi potensi dan strategi pengembangan ekowisata mangrove di Desa Lubuk Kertang, Kecamatan Brandan Barat, Kabupaten Langkat Sumatera Utara. Abdimas Talenta. 1(1):31–38.

Bungin, B, 2017. Metodologi Penelitian Kualitatif. Aktualisasi Metodologis ke Arah Ragam Varian Kontemporer. PT. Raja Grafindo Persada. Jakarta.

Eka Fitriah, Yuyun Maryuningsih, Edy Chandra, A. M. 2013. Studi Analisis Pengelolaan Hutan Mangrove Kabupaten Cirebon. 2 November.

Febryano, G.I., Suharjito, D., Darusman, D., Kusmana, C., Hidayat, A, 2015. Aktor dan Relasi Kekuasaan dalam Pengelolaan Mangrove di Kabupaten Pesawaran, Provinsi Lampung, Indonesia. Jurnal Analisis Kebijakan Kehutanan. Vo. 12 No. 2, 123-124.

Kustanti, A. 2011. Manajemen Hutan Mangrove. Buku. IPB Press. Bogor. 24.

Moleong, L. J. 2003. Metodologi Penelitian Kualitatif, Bandung: PT. Remaja Rosdakarya.

Peta Mangrove Nasional Tahun, 2021. Baseline Pengelolaan Rehabilitasi Mangrove Nasional. Kementerian Lingkungan Hidup & Kehutanan Republik Indonesia https://www.menlhk.go.id/site/single_post/4476/peta-mangrove-nasional-tahun-2021-baseline-pengelolaan-rehabilitasi-mangrove-nasional.

Raharjo P, Setiady D, Zallesa S, Putri E. 2016. Identifikasi Kerusakan Pesisir Akibat Konversi Hutan Bakau (Mangrove) Menjadi Lahan Tambak di Kawasan Pesisir Kabupaten Cirebon. Jurnal Geologi Kelautan. 13 (1); 9-24.

Rahmawaty. 2006. Upaya Pelestarian Mangrove Berdasarkan Pendekatan Masyarakat. Karya Ilmiah. Universitas Sumatera Utara, Medan.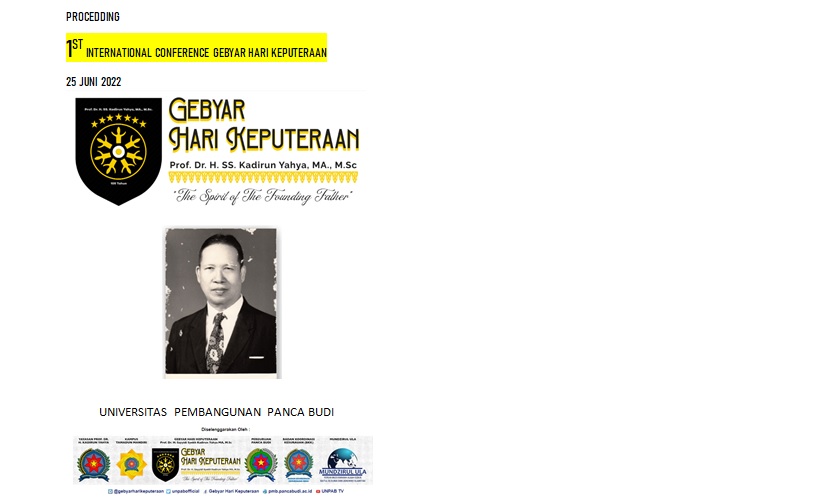 How to Cite
AULIA, Farid; AGUSTRISNO, Agustrisno. THE ROLE OF MANGROVE MANAGEMENT ACTORS AND STAKEHOLDER INSTITUTIONS IN LUBUK KERTANG VILLAGE.
Proceeding International Conference Keputeraan Prof. H. Kadirun Yahya
, [S.l.], v. 1, n. 1, p. 350-354, aug. 2022. ISSN 2961-7960. Available at: <
https://jurnal.pancabudi.ac.id/index.php/keputeraan/article/view/4391
>. Date accessed: 01 dec. 2023.