MEAT QUALITY OF NATIVE CHICKEN (Gallus domesticus) WHICH IS GIVEN BANANA PEEL FLOUR (Musa sp) IN RATE
Risdawati Br Ginting

University Pembangunan Panca Budi Medan

Tri Febriani Lombu

University Pembangunan Panca Budi Medan
Abstract
This study aims to determine the quality of free-range chicken meat (Gallus domesticus) given banana peel flour (Musa sp) in the ratio of the pH of the meat, cooking loss, and water content. The research method used was an experimental method with a completely randomized design (CRD) with 3 treatments and 6 replications. The treatment of giving banana peel flour consisted of P0 (100% ration)), P1 (5% banana peel flour 5%), P2 (10% banana peel flour in the ration). The variables observed in this study were the quality of free-range chicken meat including meat pH, cooking loss, and water content. The results of this study indicate that. The addition of banana peel flour in the ration had a significant effect (P<0.05) on the pH value of the meat, and gave an insignificant effect (P>0.05) on the cooking loss value and water content of native chicken meat. The application of banana peel flour in the ration of free-range chicken can reduce the pH value of the meat but does not reduce the percentage of cooking loss and water content. Keywords: Native Chicken, Banana Peel, Ration Fee, Meet Quality
References
berle EDCJ, H B Forest, MD Hedrick, Judge dan RA Merkel. (2001). The Principle of
Meat Science, WH, Freeman and Co, San Francisco.
AOAC Association Official Analitycal Chemistry. (2005). Official Method of Analysis .
18th Ed. Maryland (US): AOAC International.
Becker, T. 2000. Consumer perception of fresh meat quality : A framework for
analysis. British Food Journal 102 : 158-176.
Dilago D. (2011). Analisis Permintaan Daging Ayam pada Tingkat Rumah Tangga Di
Kecamatan Tobelo Kabupaten Kalimantan Utara. Jurnal Agroforesteri No. 3
tahun 2011 VII: 17- 24.
Hanafiah, K. A. (2014). Rancangan Percobaan. PT Raja Grafindo Persada. Jakarta.
Hernawati, H., A. Aryani, T. Safaria, & R. Solihat. (2009). Optimasi pemanfaatan tepung
kulit pisang untuk meningkatkan kualitas produksi ayam kampung. Laporan. Jurusan
Pendidikan Biologi, FMIPA, Universitas Pendidikan Indonesia, Bandung.
Huda A F.(2009). Evaluasi Kecukupan Nutrien Pada Ransum Ayam Broiler Dipeternakan
CV Perdana Putra Chicken Bogor. (Skripsi). Semarang. Universitas Dipenegoro.
Koni. (2012). Pemanfaatan kulit pisang dan ampas kelapa sebagai pengganti jagung dalam
ransum terhadap pertumbuhan ayam buras. Buletin Partener 19:197 203.
Lawrie, R. A. (2003). Ilmu Daging. Terjemahan: Aminuddin Parakkasi. Universitas
Indonesia Press, Jakarta.
Nurwantoro dan S. Mulyani. (2003). Buku Ajar, Dasar Teknologi Hasil Ternak. Fakultas
Peternakan Universitas Diponegoro. Semarang.
Puwastien Prapasri et al, (2009). Development of Rice Reference Material and Its Use for
Evaluation of Analytical Performance of Food Analysis Laboratories. Journal of Food
Composition and Analysis.
Soeparno. (2005). Ilmu dan Teknologi Daging, Cetakan III. Gadjah Mada University Press
Yogyakarta.
Soeparno. (2009). Ilmu dan Teknologi. Daging. Universitas Gajah Mada Press,
Sunu, P., Sukamto, B, Suprijatna, E. (2014). Penggunaan sorgum dan kulit pisang yang
terolah secara kimiawi terhadap energi metabolis, retensin dan kecernaan pada
Ayam broiler. Jurnal kampus stip farming semarang.
Suprijatna, E. U. Atmomarsono, dan K. Ruhyat. (2005). Ilmu Dasar Ternak Unggas.
Cetakan 1. Penebar Swadaya. Jakarta.
Proceeding International Conference Gebyar Hari Keputeraan Prof. H. Kadirun Yahya 105 in 2022
429
Wahyuni (2005). Ilmu Nutrisi Unggas. Cetakan Ketiga Gadjah Mada Universitypress.
Yogyakarta. Watts, S. A., Lawrence, A. L., &
Lawrence. J. M. (2013). Nutrion. Sea Urchins: Biology and Ecology, 155-169.
Winarso, D. (2003). Perubahan Karakteristik Fisik Akibat Perbedaan Umur, Macam
Otot, Waktu dan Temperatur Perebusan pada Daging Ayam Kampung. Sekolah
Tinggi Penyuluhan Pertanian Magelang, Magelang. 119–132.
Yaman, M. Aman. (2010). Ayam Kampung Unggul 6 Minggu Panen. Penebar
Swadaya: Depok.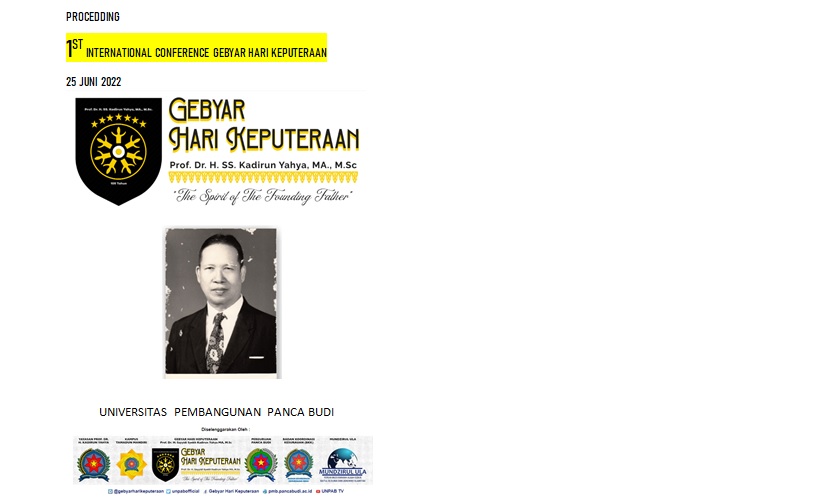 How to Cite
BR GINTING, Risdawati; LOMBU, Tri Febriani. MEAT QUALITY OF NATIVE CHICKEN (Gallus domesticus) WHICH IS GIVEN BANANA PEEL FLOUR (Musa sp) IN RATE.
Proceeding International Conference Keputeraan Prof. H. Kadirun Yahya
, [S.l.], v. 1, n. 1, p. 424 - 429, july 2023. ISSN 2961-7960. Available at: <
https://jurnal.pancabudi.ac.id/index.php/keputeraan/article/view/4615
>. Date accessed: 01 dec. 2023.