THE INFLUENCE OF AUDITOR REPUTATION, AUDIT ENGAGEMENT PERIOD, COMPANY SIZE AND AUDITOR ROTATION ON AUDIT QUALITY WITH THE AUDIT COMMITTEE AS MODERATION IN BANKING SUB SECTOR COMPANIES WHICH ARE LISTED ON THE IDX
Siti Haliza

University Pembangunan Panca Budi Medan

Rahima Br Purba

University Pembangunan Panca Budi Medan

, Renny Maisyarah

University Pembangunan Panca Budi Medan
Abstract
The population of this study are as many as 43 companies that are manufacturing companies listed on the Indonesia Stock Exchange in 2018-2022. The sampling technique used was purposive side with the number of observations 115 (23 companies x 5 years). The analysis methods used were logistic regression analysis and MRA (Moderated Regression Analysis) using SPSS (Statistical Package for the Social Science) software. The results of this study prove that the audit engagement period has a significant effect on audit quality, while audit rotation and firm size have no significant effect on audit quality. The audit committee significantly moderates the audit reputation , audit engagement period, firm's size for audit quality. The audit committee does not significantly moderate audit rotation on audit quality. Keyword : audit reputation, audit engagement period, company siz, audit rotation, audit quality audit committee
References
Ardani, S. (2017). The Influence of Audit Tenure, Audit Rotation, Audit Fee on Audit Quality with
Audit Committee as Moderation Variable in Financial Sector Companies Listed on the
Indonesia Stock Exchange". Journal of Scientific Accounting, 6(1), 1–22.
Brown, VL, Gissel, LJ, & Neely, DG (2016). Audit quality indicators: perceptions of junior-level
auditors. 22(8), 949–980.
Charmila, V. (2022). The Effect of Audit Tenure, KAP Size, Audit Fee and Company Size on Audit
Quality with Audit Committee Effectiveness as a Moderating Variable (Empirical Study of
Infrastructure and Transportation Sector Companies Listed on the Indone Stock Exchange.
Jambi University.
Fijriantoro, Y. (2013). Analysis of the effect of KAP Size, Company Financial Condition, Previous
Year Audit Opinion, company growth and company size on Going Concern Audit Opinion.
Diponegoro University.
Russiadi. (2013). Management Research Methods, Accounting and Development Economics,
Concepts, Cases and Applications of SPSS, Eviews, Amos and Lisrel (1st ed.). USU
Press.
Sidhi, & Wirakusuma. (2015). Effect of Company Size, Company Sales Level, and KAP
Reputation on KAP Change. Udayana University Journal of Accounting, 13(3), 723–736.
Siregar, Yunita. PA, Jubi, L., & A, A. (2017). The Influence of Corporate Governance on Corporate
Value in Pharmaceutical Sub-Sector Companies Listed on the Indonesia Stock Exchange.
Sultanist: Journal of Management and Finance, 6(2), 83–92.
Wahono, TH (2014). The Effect of Tenure, KAP Reputation and Company Size on Audit Quality in
Manufacturing Companies in the Consumer Goods Industry Sector Listed on the IDX in
2011-2013. Compartment, 12(2)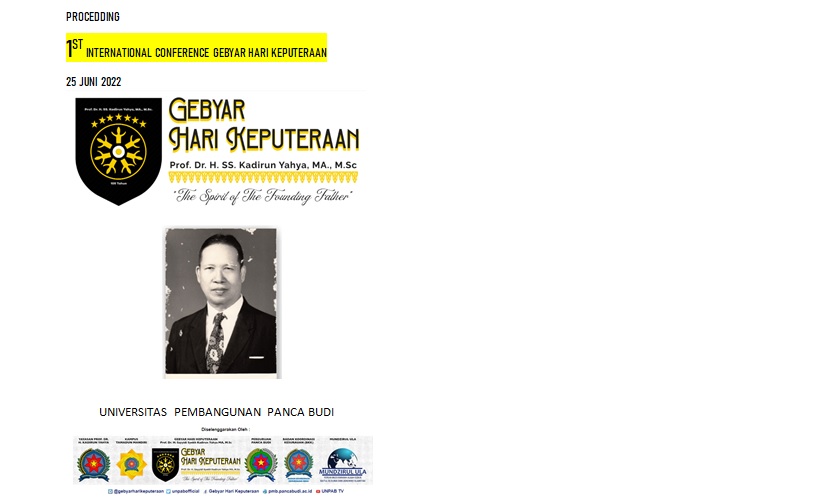 How to Cite
HALIZA, Siti; BR PURBA, Rahima; MAISYARAH, , Renny. THE INFLUENCE OF AUDITOR REPUTATION, AUDIT ENGAGEMENT PERIOD, COMPANY SIZE AND AUDITOR ROTATION ON AUDIT QUALITY WITH THE AUDIT COMMITTEE AS MODERATION IN BANKING SUB SECTOR COMPANIES WHICH ARE LISTED ON THE IDX.
Proceeding International Conference Keputeraan Prof. H. Kadirun Yahya
, [S.l.], v. 1, n. 1, p. 450 - 453, aug. 2023. ISSN 2961-7960. Available at: <
https://jurnal.pancabudi.ac.id/index.php/keputeraan/article/view/4627
>. Date accessed: 01 dec. 2023.