SOSIALISASI JAMINAN TERHADAP PEMENUHAN HAK TENAGA KERJA DENGAN LEGALISASI SISTEM PEKERJA KONTRAK UNTUK JANGKA WAKTU PENDEK (OUTSOURCING) BERDASARKAN UNDANG-UNDANG KETENAGAKERJAAN DI DESA PARIWISATA LAU GUMBA KECAMATAN BERASTAGI
Siti Nurhayati

Universitas Pembangunan Panca Budi

Onny Medaline

Universitas Pembangunan Panca Budi

Emi Wahyuni

Universitas Pembangunan Panca Budi
Abstract
The purpose to be achieved from this service is to increase the understanding and knowledge of the community, especially in Lau Gumba Village, Berastagi District, Karo Regency, regarding the rights that should be received by workers with a short-term contract system (oursourcing), because in the village is a cool airy area with the potential or natural wealth is very large so it is very interesting for tourists to visit it, so that the local government provides facilities or facilities and infrastructure that are sufficient in the field of tourism, namely by building hotels / inns / inns. It automatically recruits a lot of workers and because the current conditions are also still in a pandemic situation then workers are accepted with an outsourcing system. This is the problem of every worker with an outsourcing system where the right of employment is always ignored because there are third parties in this case the channeling company that is fully responsible for workers with this outsourcing system. Related to research conducted by researchers related to contract workers for short periods (outsourcing), which is both Law No. 13 of 2003 on Employment and UUNo. 11 Of 2020 on Copyright Work has not answered the problems that always natural workers. The problem arises because the legal basis for the enactment of outsourcing is not in sync with higher laws and regulations or equivalent. This is what needs to be socialized to all outsourced workers in order to understand and know the rights that should be received by workers with the oursourcing system.
References
Damanik, Sehat, 2007, Outsourcing dan Perjanjian Kerja Menurut UU No.13 Tahun 2003
Husni, Lalu , 2013, Pengantar Hukum Ketenagakerjaan Indonesia, Cetakan 3, PT. Grafindo Persada, Jakarta.
Kertonegoro, Sentanoe, 2009, Hubungan industrial, hubungan antara pengusaha dan pekerja ( bipartid dan pemerintah ( tripartid), YTKI, Jakarta.
Risano, Alfredo, 2006, Makalah: Pengantar Ilmu Hukum: Outsourcing, Universitas Airlangga, Surabaya
Suwondo, Chandra, 2003, Outsourcing, Implementasi di Indonesia, Elex Media Computindo, Jakarta.
Suwondo, Candra, 2014, Outsorcing , Implementasi di Indonesia, Gramedia, Jakarta.
Syamsudin, M , 2017, Pemahaman outsourching dio Indonesia, Yustitia, vol 1 no. 2 Tahun 2017.
SMERU ,2002, Hubungan Industrial di Jabotabek, Bandung dan Surabaya pada Era Kebebasan Berserikat Laporan Lembaga Penelitian SMERU, dengan dukungan dari USAID/PEG.
Wijayanti, Asri, 2004, "Kendali alokasi sebagai bentuk perlindungan hukum bagi tenaga kerja Indonesia", Yustika Vol. 7 No. 1.
Wirawan, Rubrik Hukum Terpogong: Apa yang Dimaksud dengan Sistem Outsourcing?, http://www.pikiran-rakyat.com/cetak/0504/31/teropong/komenhukum.htm

Kitab Undang Undang Hukum Perdata
Undang-Undang No.13 Tahun 2003 tentang Ketenagakerjaan
UU No. 11 Tahun 2020 tentang Cipta Kerja
Peraturan Menteri Tenaga Kerja dan Transmigrasi Republik Indonesia No.Kep.101/Men/VI/2004 Tahun 2004 tentang Tata Cara Perijinan Perusahaan Penyedia Jasa Pekerja/Buruh
Keputusan Menteri Tenaga Kerja dan Transmigrasi RI Nomor 220 / MEN / X / 2004 Tentang Syarat-Syarat Penyerahan Sebagian Pelaksanaan Pekerjaan Kepada Perusahaan Lain.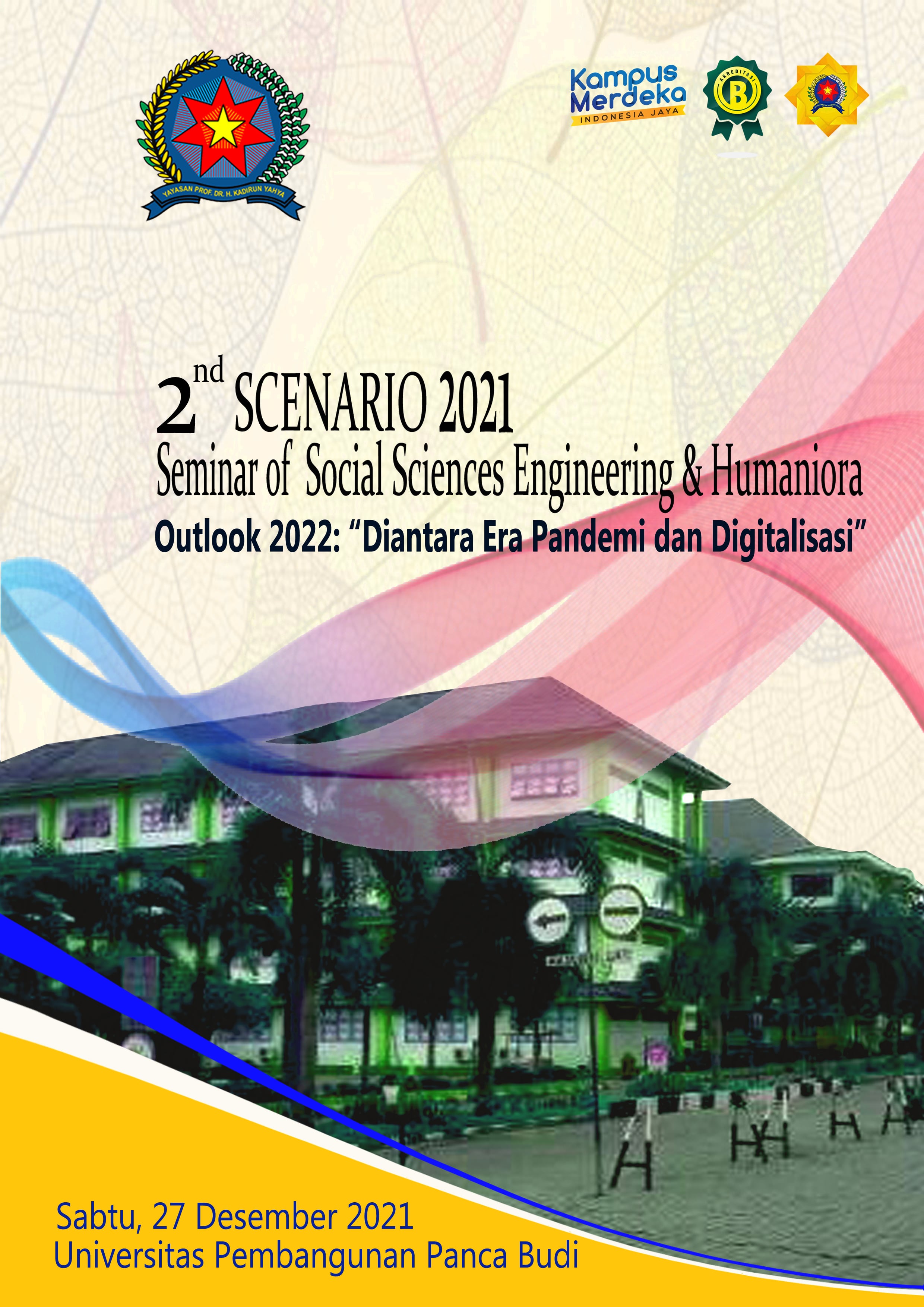 How to Cite
NURHAYATI, Siti; MEDALINE, Onny; WAHYUNI, Emi. SOSIALISASI JAMINAN TERHADAP PEMENUHAN HAK TENAGA KERJA DENGAN LEGALISASI SISTEM PEKERJA KONTRAK UNTUK JANGKA WAKTU PENDEK (OUTSOURCING) BERDASARKAN UNDANG-UNDANG KETENAGAKERJAAN DI DESA PARIWISATA LAU GUMBA KECAMATAN BERASTAGI.
Scenario (Seminar of Social Sciences Engineering and Humaniora)
, [S.l.], p. 53-62, mar. 2022. Available at: <
https://jurnal.pancabudi.ac.id/index.php/scenario/article/view/4142
>. Date accessed: 21 mar. 2023.