HAMBATAN PENERAPAN KURIKULUM ISLAM WASATHIYAH TERHADAP MUATAN PENDIDIKAN MODERATISME PADA MATA PELAJARAN AKIDAH AKHLAK MAS TARBIYAH ISLAMIYAH KEC. HAMPARAN PERAK, KABUPATEN DELI SERDANG
Rustam Ependi

Universitas Pembangunan Panca Budi

Charles Rangkuti

Universitas Pembangunan Panca Budi

Ismaraidha Ismaraidha

Universitas Pembangunan Panca Budi
Abstract
Religious education is one of the important issues because religious education provided in schools does not turn on good multicultural education, even tends to be opposite. As a result, social conflict is often amplified by the religious legitimacy taught in religious education in conflict-prone schools. This makes conflicts that have their roots in fundamental religious beliefs so that social conflicts and violence are increasingly difficult to overcome, because they are understood as their religious vocation. The root of various social conflicts that lead to prolonged anarchy is often problems that have nothing to do with religion, but in reality religion has always been an inseparable part of these social conflicts. The potential for conflict and disintegration is caused because religion in its manifestations is ambivalent towards unity and unity. That is, although religion has the power to unify, religion also has divisive power.
References
Azyumardi Azra. (2002). Pendidikan Islam; tradisi dan modernisasi menuju milenium baru. Logos Wacana Ilmu.
Hidayat, M. G., & Kurniawati, N. (2017). Pembelajaran Akidah Akhlak dan Korelasinya Dengan Peningkatan Akhlak al-Karimah Peserta Didik. Edukasi Islami: Jurnal Pendidikan Islam, 6(02), 25. https://doi.org/10.30868/EI.V6I12.181
Kadi, T., & Muhammad, A. (2022). Mainstreaming Islamic Moderations Values in Higher Education: Policy, Implementation, and Challenges. Dinamika Ilmu, 22(1), 1–15. https://doi.org/10.21093/DI.V22I1.3679
Lexy J. Moleong. (2012). Metodologi Penelitian Kualitatif . PT. Remaja Rosdakarya.
Matthew B. Miles, & A. Michael Huberman. (1992). Analisis Data Kualitatif; Buku Sumber tentang Metode-Metode Bau (Tjetjep Rohendi Rohidi, Ed.). UI-Press.
Nurcholis Madjid. (2008). Islam Doktrin dan Peradaban, . Paramadina Bekerjasama dengan Dian Rakyat.
Sofyan, A., Munawaroh, S., Kaimudin, & Mulyadi, E. (2023). Moderasi Beragama Dalam Pendidikan Persfektif Nahdlatul Ulama. Edusifa: Jurnal Pendidikan Islam, 8(2), 18–33. https://doi.org/10.56146/EDUSIFA.V8I2.95
Surahman, S., Pratiwi, R., Imron, A., Cakranegara, P. A., & Putra, P. (2022). Multicultural Education in the Forming of Social Character in the Digitalization Era. Scaffolding: Jurnal Pendidikan Islam Dan Multikulturalisme, 4(3), 162–174. https://doi.org/10.37680/SCAFFOLDING.V4I3.1805
Syahrin Harahap. (2015). Islam dan modernitas: Dari teori modernisasi Hingga Penegakan kesalehan Modern. Kencana.
Warsah, I., Destriani, Septian, R. Y., & Nurhayani. (2022). Implementasi Kurikulum Tersembunyi Pada Mata Pelajaran Pendidikan Agama Islam di SMA Negeri 1 Rejang Lebong. Al-Ikhtibar: Jurnal Ilmu Pendidikan, 9(1), 1–11. https://doi.org/10.32505/IKHTIBAR.V9I1.632
Yunus, S., & Salim, A. (2018). Eksistensi Moderasi Islam dalam Kurikulum Pembelajaran PAI di SMA. Al-Tadzkiyyah: Jurnal Pendidikan Islam, 9(2), 181–194. https://doi.org/10.24042/ATJPI.V9I2.3622
Zaini, A. (2022). Modernizing Islamic Education In The Most Populated Muslim World. JOURNAL OF INDONESIAN ISLAM, 16(1), 175–196. https://doi.org/10.15642/JIIS.2022.16.1.175-196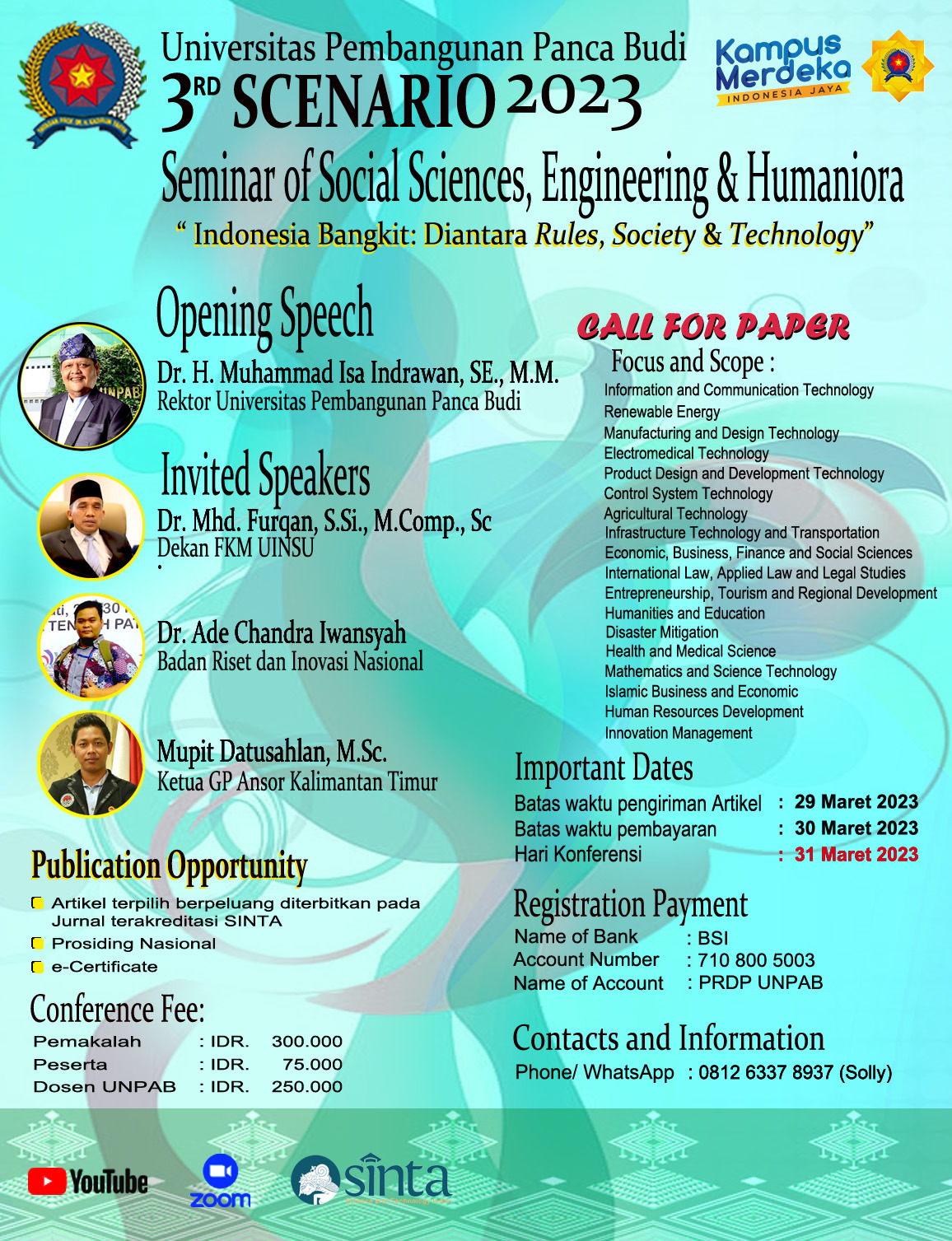 How to Cite
EPENDI, Rustam; RANGKUTI, Charles; ISMARAIDHA, Ismaraidha. HAMBATAN PENERAPAN KURIKULUM ISLAM WASATHIYAH TERHADAP MUATAN PENDIDIKAN MODERATISME PADA MATA PELAJARAN AKIDAH AKHLAK MAS TARBIYAH ISLAMIYAH KEC. HAMPARAN PERAK, KABUPATEN DELI SERDANG.
Scenario (Seminar of Social Sciences Engineering and Humaniora)
, [S.l.], p. 1-8, apr. 2023. Available at: <
https://jurnal.pancabudi.ac.id/index.php/scenario/article/view/4496
>. Date accessed: 26 sep. 2023.