ANALISA UNSUR HARA TANAH AKIBAT PEMBERIAN EKOENZIM PADA TANAMAN BAWANG MERAH (Allium ascalonicum L.)
Najla Lubis

Universitas Pembangunan Panca Budi

Muhammad Wasito

Universitas Pembangunan Panca Budi
Abstract
Nutrients are needed by plants in sufficient and balanced quantities for their growth and development. Macro nutrients are nutrients needed by plants in large quantities, such as N, P, K, and C-Organic. Ecoenzyme (EZ) is the result of fermentation from organic waste in the form of fruit or vegetable waste. The purpose of this study was to determine the content of macro nutrients in the soil and the cation exchange capacity due to the administration of enzymes to shallots (Allium ascalonicum L.). The analytical method used for the N-Kjehldahl Spectrophotometer, the P-Bray II extract  spectrophotometer, the K exchangeable with the atomic absorption spectrophotometer (AAS), and the C-organic with the Walkley and Black spectrophotometer The results showed an increase in macro nutrient levels due to the administration of ecoenzymes, were N, P, K, and C-organic, and cation exchange capacities of 0.18%, 850.84 mg/kg, 1.55 me/100g, 3.26%, and 57.84 me/100g, respectively, from the previous 0.14%, 69.125 mg/kg, 0.11 me/100g, 1.92%, and 26.27 me/100g. Moreover, ecoenzymes can be used to increase production in crop cultivation
References
Gultom, F., Hernawaty, Brutu, H., & Karo-Karo, S. (2022). PEMANFAATAN PUPUK EKOENZIM DALAM MENINGKATKAN PERTUMBUHAN DAN PRODUKSI TANAMAN BAWANG MERAH (Allium cepa L.). JURNAL DARMA AGUNG, 30(1), 142–159. https://doi.org/http://dx.doi.org/10.46930/ojsuda.v30i1.1433
Hasanah, Y. (2021). Eco enzyme and its benefits for organic rice production and disinfectant. Journal of Saintech Transfer, 3(2), 119–128. https://doi.org/10.32734/jst.v3i2.4519
Hemalatha, M., & Visantini, P. (2020). Potential use of eco-enzyme for the treatment of metal based effluent. IOP Conference Series: Materials Science and Engineering, 716(1). https://doi.org/10.1088/1757-899X/716/1/012016
Lubis, N., Wasito, M., Hakim, T., & Sulardi. (2022). Bioenzim-Aplikasinya di bidang pertanian (A. Rasyid (ed.); 1st ed.). PT Dewangga Energi Internasional.
Novianti, A., & Muliarta, I. N. (2021). Eco-Enzym Based on Household Organic Waste as Multi- Purpose Liquid. AGRIWAR JOURNAL, 1(1), 13–18.
Steenhoudt, O., & Vanderleyden, J. (2000). Azospirillum, a free-living nitrogen-fixing bacterium closely associated with grasses: Genetic, biochemical and ecological aspects. FEMS Microbiology Reviews, 24(4), 487–506. https://doi.org/10.1016/S0168-6445(00)00036-X
Tando, E. (2019). UPAYA EFISIENSI DAN PENINGKATAN KETERSEDIAAN NITROGEN DALAM TANAH SERTA SERAPAN NITROGEN PADA TANAMAN PADI SAWAH ( Oryza sativa L.). Buana Sains, 18(2), 171. https://doi.org/10.33366/bs.v18i2.1190
Yulistia, E., & Chimayati, R. L. (2021). Pemanfaatan Limbah Organik menjadi Ekoenzim. Unbara Environment Engineerring Journal, 02(01), 1–6.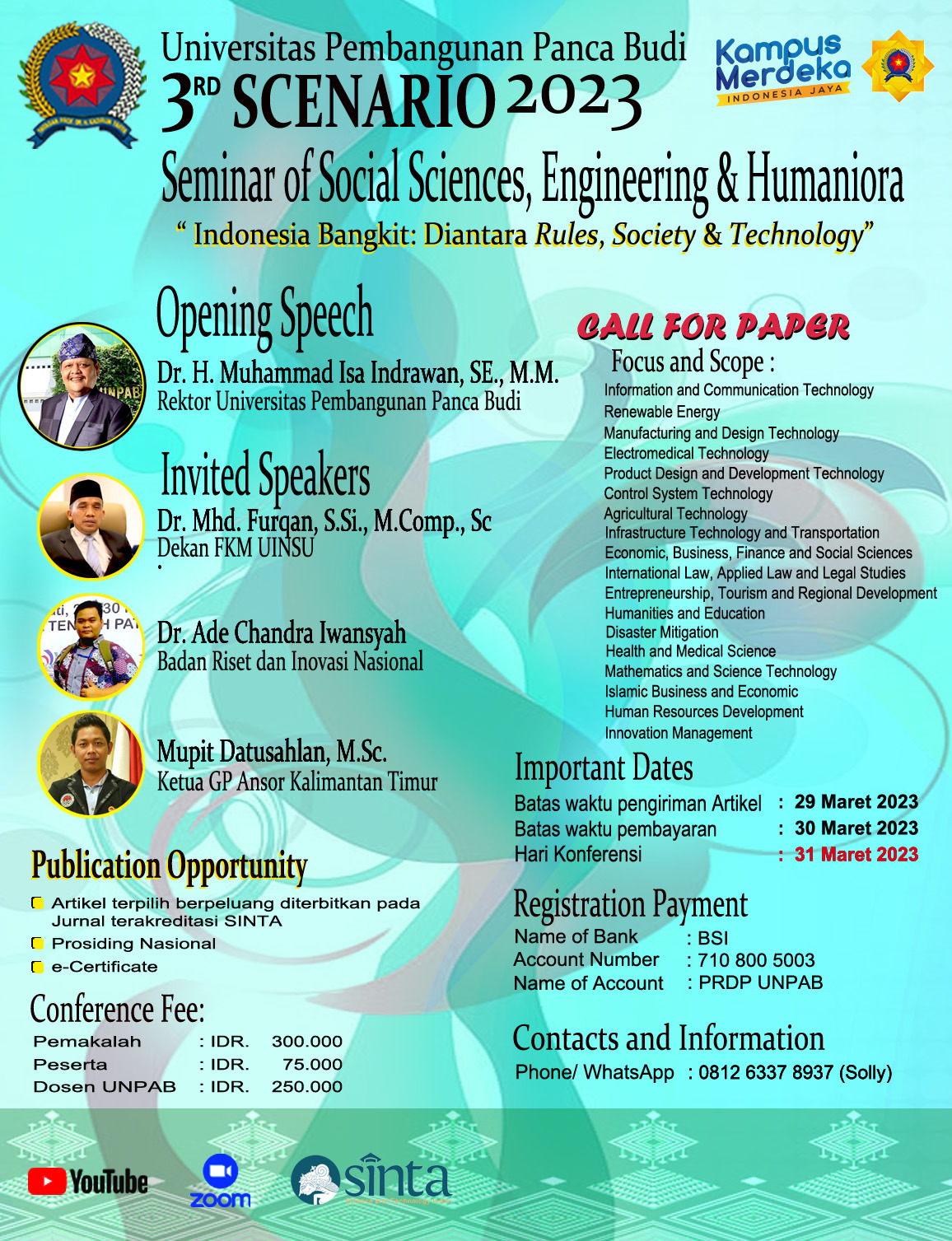 How to Cite
LUBIS, Najla; WASITO, Muhammad. ANALISA UNSUR HARA TANAH AKIBAT PEMBERIAN EKOENZIM PADA TANAMAN BAWANG MERAH (Allium ascalonicum L.).
Scenario (Seminar of Social Sciences Engineering and Humaniora)
, [S.l.], p. 149-156, apr. 2023. Available at: <
https://jurnal.pancabudi.ac.id/index.php/scenario/article/view/4512
>. Date accessed: 26 sep. 2023.