SOSIALISASI TENTANG PEMBERLAKUAN UPAH TENAGA KERJA DI BAWAH STANDAR MINIMUM DITINJAU DARI PP NO. 36 TAHUN 2021 TENTANG PENGUPAHAN DAN HUKUM ISLAM DI DESA MEDAN KRIO
Siti Nurhayati

Universitas Pembangunan Panca Budi

Emi Wahyuni

Universitas Pembangunan Panca Budi

Syaiful Asmi Hasibuan

Universitas Pembangunan Panca Budi
Abstract
The goal to be achieved from this service is to increase community understanding and knowledge, especially in Medan Krio Village, Deli Serdang Regency, through counseling and socialization regarding the implementation of labor wages below the minimum standard that distinguishes the concept of wages in Government Regulation Number 36 of 2021 concerning Wages and Islamic law. This is very important because Islam has its own distinctive view of the discussion of ijarah (wages) and the concept offered is more of a sense of justice and benefit in order to fulfill each other's lives between workers and employers for the benefits obtained, although in its implementation it has fulfilled two of the three principles of remuneration in Islamic law, namely the principle of justice and pleasure, the principle that has not been fulfilled is the principle of worthiness. This really needs to be conveyed to the community, especially the people in Medan Krio Village, where the majority of education is only up to high school so that they have the principle of only getting a job without thinking about their rights as workers which have been regulated in applicable laws and regulations.
References
Anggaini, Fitri. 2018. "Studi Komparasi Standart Upah Minimum Buruh Menurut Undang-Undang No. 13 Tahun 2003 Dan Hukum Islam", Skripsi. Tulungagung: IAIN Tulungagung.
Annisa'atun, Ana. Ketentuan Upah, Jurnal Maliyah, Vol, 1, No. 1, Juni 2011.
Aryanti, Harnida Gigih. Dkk. 2015. Ketenagakerjaan. Klaten: Cempaka Putih.
Budijanto, Oki Wahju. Upah Layak Bagi Pekerja/Buruh Dalam Perspektif Hukum Dan HAM, Jurnal Penelitian Hukum De Jure, Vol. 17 No. 3, September 2017
Ghofur, Ruslan Abdul. 2020. Konsep Upah Dalam Ekonomi Islam. Bandar Lampung: Arjasa Pratama.
Jogloabang. "PP No 36 tahun 2021 tentang Pengupahan" dalam https://www.jogloabang.com/ekbis/pp-36-2021-pengupahan, diakses 29 Mei 2021
Ridwan. Regulasi Upah Buruh dalam Fiqh, Jurnal Al Qalam, Vol. 25, No. 1, Januari-April 2008.
Undang-Undang No.13 Tahun 2003 tentang Ketenagakerjaan
Undang-Undang No. 11 Tahun 2020 tentang Cipta Kerja
PP Nomor 36 Tahun 2021 Tentang Pengupahan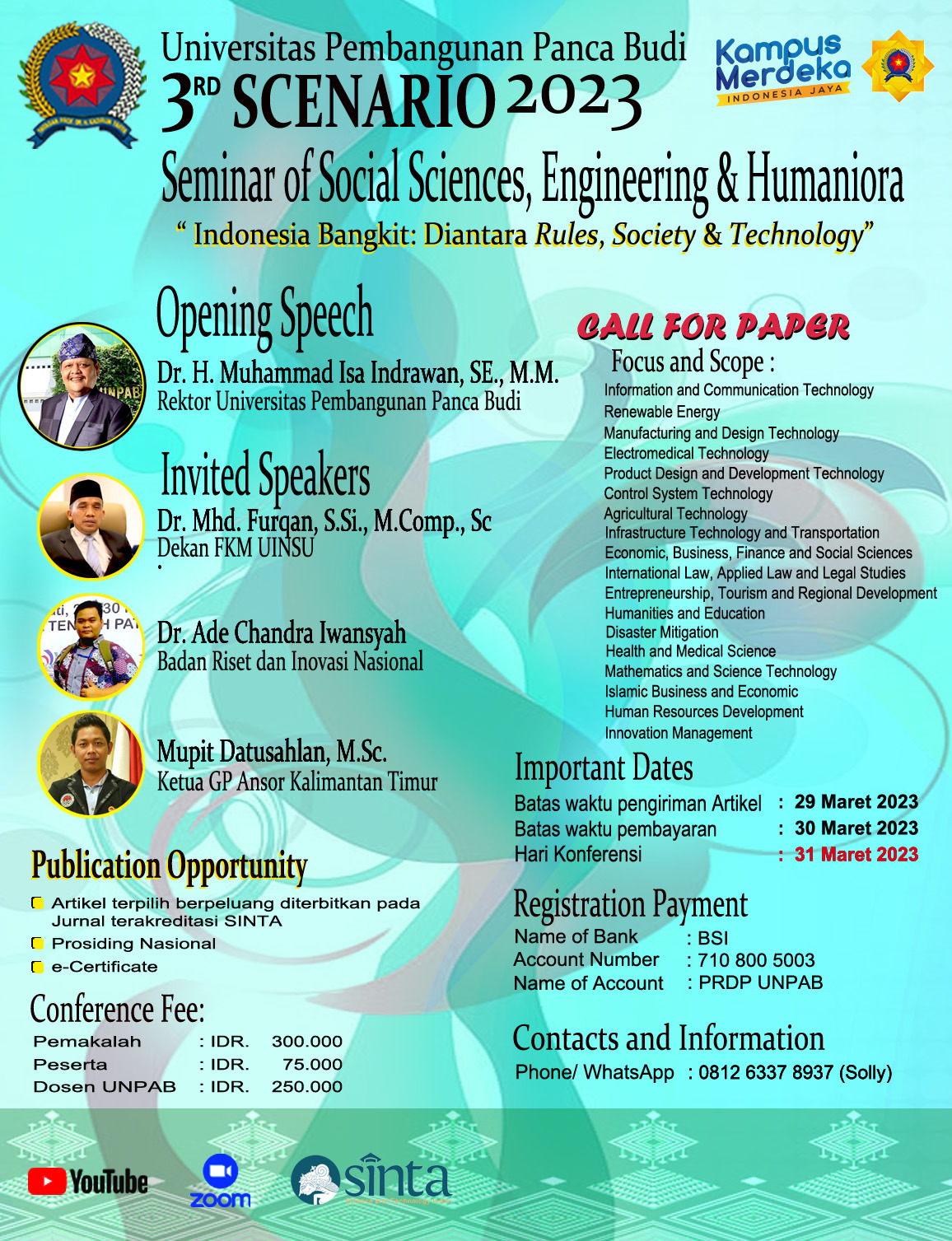 How to Cite
NURHAYATI, Siti; WAHYUNI, Emi; HASIBUAN, Syaiful Asmi. SOSIALISASI TENTANG PEMBERLAKUAN UPAH TENAGA KERJA DI BAWAH STANDAR MINIMUM DITINJAU DARI PP NO. 36 TAHUN 2021 TENTANG PENGUPAHAN DAN HUKUM ISLAM DI DESA MEDAN KRIO.
Scenario (Seminar of Social Sciences Engineering and Humaniora)
, [S.l.], p. 157-165, apr. 2023. Available at: <
https://jurnal.pancabudi.ac.id/index.php/scenario/article/view/4513
>. Date accessed: 26 sep. 2023.