PELAKSANAAN KECERDASAN MAJEMUK DALAM MENGEMBANGKAN METODE MENGHAFAL ALQUR'AN PADA MADRASAH ALIYAH SWASTA TARBIYAH ISLAMIYAH KEC. HAMPARAN PERAK, KABUPATEN DELI SERDANG
Charles Rangkuti

Universitas Pembangunan Panca Budi

Rustam Ependi

Universitas Pembangunan Panca Budi

Nazrial Amin

Universitas Pembangunan Panca Budi
Abstract
This Qur'an is a book that was revealed to be a guide for Muslims around the world, so that this Qur'an is not just a page that is studied. Because when reading the Qur'an can also get rewards for the reader and this Qur'an is a blajjah and helper when the day of charity reckoning arrives later. The Qur'an also describes a lot of knowledge, implied and penetrated knowledge. The Qur'an is also a mercy for the universe so that its contents are suitable and can be used as a guide for human life. In order to understand the contents of the Qur'an concretely, let alone the discussion of education, it must use tafsir. Memorizing the Qur'an is a process of inserting verses of the Qur'an into the heart and mind so that they are not lost again. In undergoing this process, huffaz (Qur'an memorizers) apply methods that may vary from one person to another. The choice of memorization method is usually adjusted to one's learning character. People with visual learning characters, for example, prefer to memorize the Qur'an by looking directly at the writing of Qur'an verses in the mushaf before finally memorizing them.
References
Abdul Mujib, & Jusuf Mudzakkir. (2006). Ilmu Pendidikan Islam . Kencana .
Anas, M., Arif, M., & Sulistyanik, E. D. (2019). PENGEMBANGAN POTENSI PESERTA DIDIK DALAM PEMBELAJARAN PENDIDIKAN AGAMA ISLAM BERBASIS KECERDASAN MAJEMUK (MULTIPLE INTELLIGENCE). Al-Tarbawi Al-Haditsah: Jurnal Pendidikan Islam, 4(2), 2407–6805. https://doi.org/10.24235/TARBAWI.V4I2.5216
Anas Maarif, M., Rofiq, M. H., & Nabila, N. S. (2020). Pendidikan Pesantren Berbasis Multiple Intellegences (Kecerdasan Majemuk). Tafkir: Interdisciplinary Journal of Islamic Education, 1(1), 1–19. https://doi.org/10.31538/TIJIE.V1I1.1
Budi Agus Sumantri. (2019). Pengembangan Kurikulum di Indonesia Menghadapi Tuntutan Kompetensi Abad 21. EL-HIKMAH: Jurnal Kajian Dan Penelitian Pendidikan Islam, 13(2), 146–167. https://doi.org/10.20414/ELHIKMAH.V13I2.661
Fikriyah, F. Z., & Aziz, J. A. (2018). Penerapan Konsep Multiple Intelligences pada Pembelajaran PAI. IQ (Ilmu Al-Qur'an): Jurnal Pendidikan Islam, 1(02), 220–244. https://doi.org/10.37542/IQ.V1I02.17
Hanafi, H. (2016). KECERDASAN MAJEMUK DAN METODE PEMBELAJARANNYA. Jurnal Pendidikan Karakter JAWARA (Jujur, Adil, Wibawa, Amanah, Religius, Akuntabel), 2(1). https://jurnal.untirta.ac.id/index.php/JAWARA/article/view/934
Hidayat, M. G., & Kurniawati, N. (2017). Pembelajaran Akidah Akhlak dan Korelasinya Dengan Peningkatan Akhlak al-Karimah Peserta Didik. Edukasi Islami: Jurnal Pendidikan Islam, 6(02), 25. https://doi.org/10.30868/EI.V6I12.181
Kadi, T., & Muhammad, A. (2022). Mainstreaming Islamic Moderations Values in Higher Education: Policy, Implementation, and Challenges. Dinamika Ilmu, 22(1), 1–15. https://doi.org/10.21093/DI.V22I1.3679
Lexy J. Moleong. (2012). Metodologi Penelitian Kualitatif . PT. Remaja Rosdakarya.
Nasution, Z. (2019). KONSEP PENDIDIKAN AKHLAK DALAM ALQURAN UNTUK MEMBANGUN KARAKTER PESERTA DIDIK. Jurnal Al-Fatih, 2(1), 50–66. http://jurnal.stit-al-ittihadiyahlabura.ac.id/index.php/alfatih/article/view/24
Putri Safna, O., & Sri Wulandari, S. (2022). Pengaruh Motivasi, Disiplin Belajar, dan Kemampuan Berpikir Kritis terhadap Hasil Belajar Siswa. Scaffolding: Jurnal Pendidikan Islam Dan Multikulturalisme, 4(2), 140–154. https://doi.org/10.37680/SCAFFOLDING.V4I2.1458
Samsunuwiyati Mar'at. (2005). Psikologi Perkembangan . PT Remaja Rosdakarya,.
Syafaruddin. (2014). Ilmu Pendidikan Islam . Hijri Pustaka Umum. http://repository.uinsu.ac.id/1923/1/buku%20Ilmu%20pendidkan%20Islam%20.pdf
Zein, A., Nahar, S., & Muchlis, M. (2019). Konsep Pendidikan Islam dalam Surah Al-Mujadalah. Nazhruna: Jurnal Pendidikan Islam, 2(3), 350–362. https://doi.org/10.31538/NZH.V2I3.813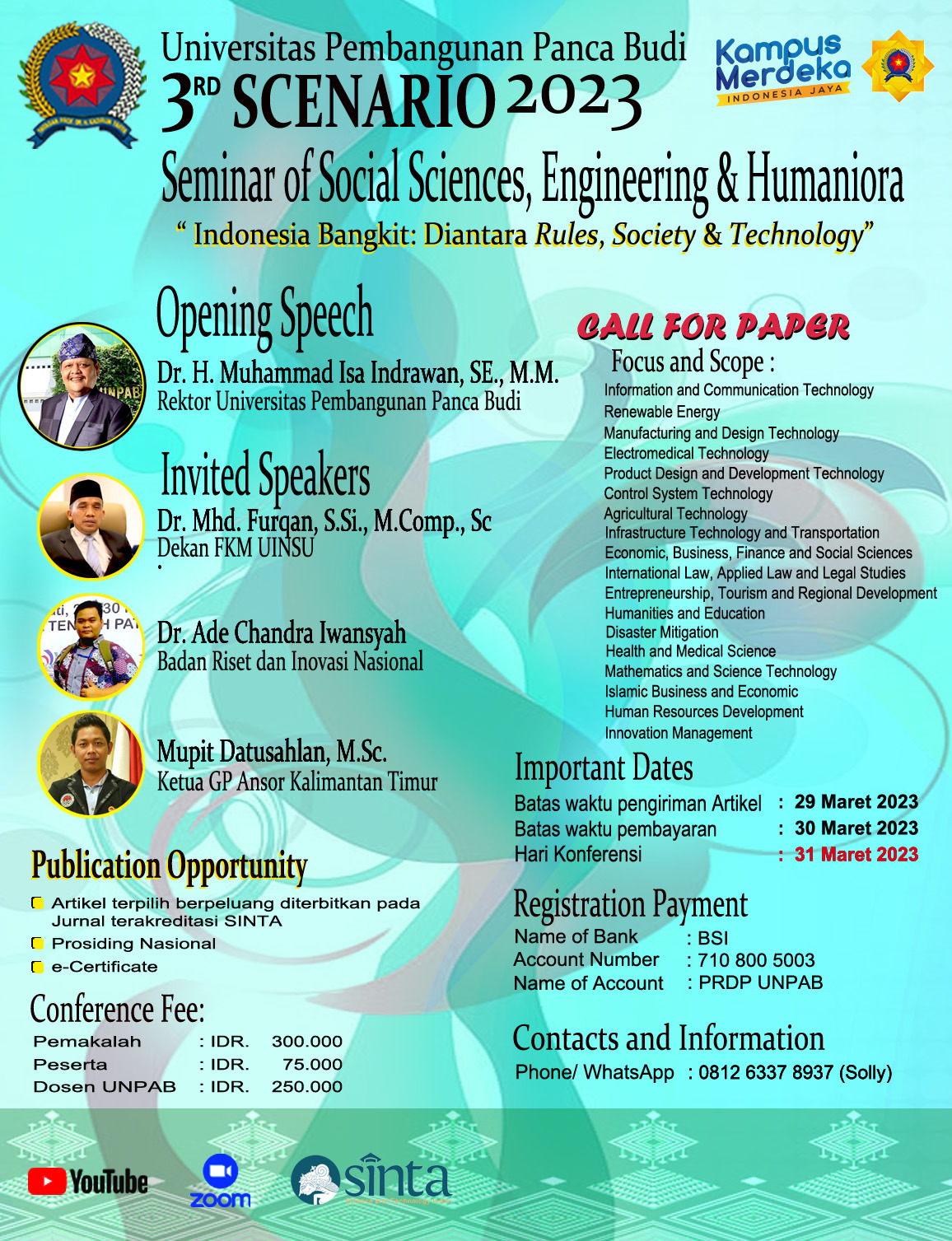 How to Cite
RANGKUTI, Charles; EPENDI, Rustam; AMIN, Nazrial. PELAKSANAAN KECERDASAN MAJEMUK DALAM MENGEMBANGKAN METODE MENGHAFAL ALQUR'AN PADA MADRASAH ALIYAH SWASTA TARBIYAH ISLAMIYAH KEC. HAMPARAN PERAK, KABUPATEN DELI SERDANG.
Scenario (Seminar of Social Sciences Engineering and Humaniora)
, [S.l.], p. 198-206, apr. 2023. Available at: <
https://jurnal.pancabudi.ac.id/index.php/scenario/article/view/4517
>. Date accessed: 26 sep. 2023.