ABNORMALITAS SPERMATOZOA SEMEN SEGAR KAMBING DENGAN PEMBERIAN PAKAN SUPLEMEN EKSTRAK KUNYIT
Sukma Aditya Sitepu

Universitas Pembangunan Panca Budi

Julia Marisa

Universitas Pembangunan Panca Budi

Muhammad Miftah Farid

Universitas Pembangunan Panca Budi
Abstract
The quality of the fresh semen of goats relates to the feed given to goat bucks. One of the herbal ingredients that can improve the quality of fresh semen is turmeric. This study aimed to determine the effect of giving turmeric extract to reduce spermatozoa abnormalities in fresh semen of goats. Observations using microscopically. The materials in this study were fresh goat semen and turmeric extract. The experimental design used in the study was a non-factorial, Completely Randomized Design with five treatments and five replications. The treatment included adding 0ml, 25ml, 50ml, 75ml, and 100ml turmeric extract. The parameter observed was the percentage of abnormal spermatozoa in fresh goats. The results showed that the addition of 0ml showed an abnormality value of 15%, 25ml = 13%, 50ml = 12%, 75ml = 12% and 100 ml = 11%. The analysis of variance showed that the results had no significant effect. They have concluded that giving turmeric extract supplements cannot reduce the value of abnormal spermatozoa in goats. The recommendation is that it is necessary to conduct further research by increasing the dose of turmeric extract in the treatment.
References
Agusta, A. 2010. Minyak Atsiri Tumbuhan Tropika Indonesia. ITB, Bandung.
Anggraeny, Y.N., L. Afandhy dan Rasyid. 2005. Efektifitas Substitusi Pengencer Tris Sitrat dan Kolesterol Menggunakan Air Kelapa dan Kuning Telur Terhadap Kualitas Semen Beku Sapi Potong. Seminar Nasional Teknologi Peternakan dan Veteriner 2005.
Arifiantini, I., T. Wresdiyati., dan E. F. Retnani. 2006. Pengujian morfologi spermatozoa sapi Bali (Bos sondaicus) menggunaan "Williams". Jurnal Pengembangan Peternakan Tropis 31 : 105 – 110.
Bearden, H. J., and J. Fuquay. 1984. Applied Animal Reproduction, 2nd Edition, A Reston Book Prentice Hall Inc. Eagle Wood, New Jersey.
Blakely, J., dan D. H. Bade., 2008. Ilmu Peternakan. Gadjah Mada University Press, Yogyakarta.
Fisher, K., and C. A. Phillips. 2006. The effect of lemon, orange and bergamot essential oils and their components on the survival of Campylobacter jejuni, Escherichia coli O157, Listeria monocytogenes, Bacillus cereus and Staphylococcus aureus in vitro and in food systems. J Appl Microbiol. 2006 Dec;101(6):1232-40.
Gunawan. M dan E. M. Kaiin. 2008. Kualitas Sperma Sapi Beku Dalam Media Tris Kuning Telur Dengan Konsentrasi Raffinosa yang Berbeda. Seminar Nasional Teknologi Peternakan dan Veteriner 2008.
Hafez, E. S. E., dan B. Hafez. 2005. Reproduction in Farm Animal 7 th ed. Lippincott Williams and Walkins, South Carolina.
Hasan, F., & Sitepu, S. A. P. Alwiyah, 2017. Pengaruh paritas terhadap persentase estrus domba ekor tipis yang disinkronisasi estrus menggunakan prostaglandin F2α (PGF2α). Jurnal Ilmu Produksi dan Teknologi Hasil Peternakan, 5(1), 46-48.
Kartasapoetra. 2001. Budidaya Tanaman Berkhasiat Obat. Rineka Cipta, Jakarta.
Marisa, J., Sitepu, S. A., and Kurniawan, R. 2022. ANALYSIS OF SHEEP FARMER SUPPLY CHAIN INTEGRATION LANGKAT REGENCY. In Proceeding International Conference Keputeraan Prof. H. Kadirun Yahya (Vol. 1, No. 1, pp. 104-112).
Marisa, J., Sitepu, S. A., dan Kurniawan, R. 2022. Budaya Organisasi dan Integrasi Rantai Pasok Ternak Domba. Tahta Media Group.
Leboeuf, B., E. Manfredi., P. Boue, A. Piacere., G. Brice., G. Baril., C. Broqua., P. Humblot., and M. Terqui.1998. Artificial insemination of dairy goats in France. Livestock Prod. Sci. 55: 193-203.
Pane, P., 2008. Pemuliaan Ternak Sapi. PT. Gramedia Pustaka, Jakarta.
Paulenz, H., L. So¨derquist., T. A Dnøy., K. Soltun., P. A. Sæther., K. R. Fjellsøy, and K. A. Berg. 2005. Effect of cervical and vaginal insemination with liquid semen stored at room temperature on fertility of goats. Anim. Rep. Sci. 86 (2005) 109–117.
Purdy, P. H. 2010. A Review on Goat Sperm Cryopreservation. Small Ruminat Research.
Rizal, M., dan Herdis. 2008. Inseminasi Buatan Pada Domba. Jakarta. Rineka Cipta, Jakarta.
Salamon, S., dan W. M. C. Maxwell. 2000. Storage of Ram Semen. Anim Reprod Sci 62:77-111.
Salmah. N. 2014. Motilitas, Persentase Hidup dan Abnormalitas Spermatozoa Semen Beku Sapi Bali Pada Pengencer Andromed dan Tris Kuning Telur. Fakultas Peternakan Universitas Hasanudin. Makassar.
Sitepu, S. A., dan J. Marisa. 2020. Manajemen Usaha Ternak Perah Kambing Peranakan Etawa. Mitra Cendekia Media.
Sitepu, S. A., dan Putra, A. 2017. Pengaruh penambahan minyak atsiri kulit Jeruk Manis pada pengencer tris kuning telur terhadap kualitas semen post-thawing Sapi Simmental. Jurnal Peternakan Indonesia (Indonesian Journal of Animal Science), 19(3), 149-155.
Toelihere, M. R. 1993. Fisiologi Reproduksi pada Ternak. IPB Press, Bogor.
Williamson G. dan W. J. A. Payne. 1993. Pengantar Peternakan di Daerah Tropis. Universitas Gadjah Mada Press, Yogyakarta.
Widjaya. N. 2011. Pengaruh Pemberian Susu Skim dengan Pengencer Tris Kuning Telur Terhadap Daya Tahan Hidup Spermatozoa Sapi pada Suhu Penyimpanan 50C. Sains Peternakan Vol. 9 (2), September 2011: 72-76.
Yuwanta, T. 2010. Telur dan Kualitas Telur. Gadjah Mada University Press. Yogyakarta.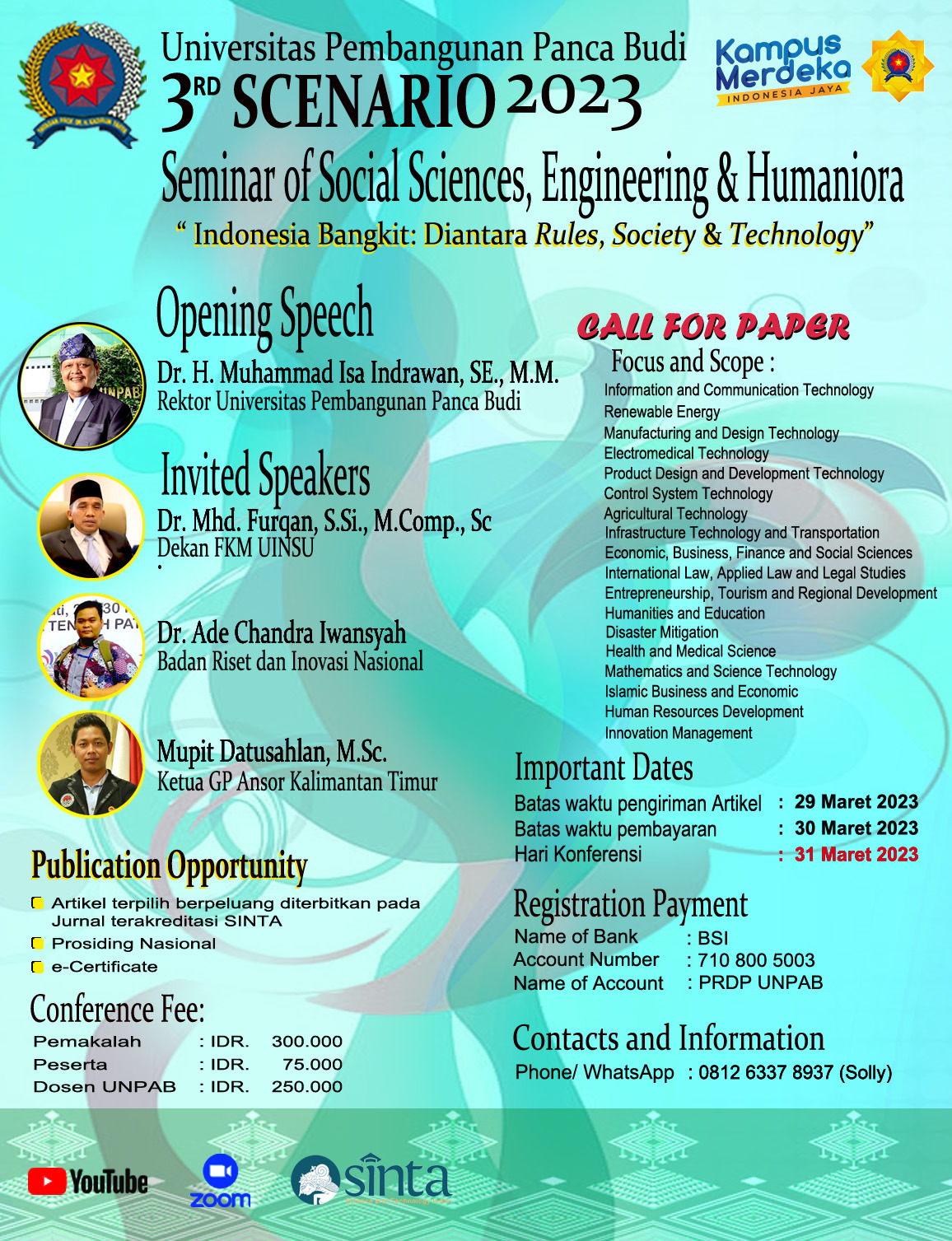 How to Cite
SITEPU, Sukma Aditya; MARISA, Julia; FARID, Muhammad Miftah. ABNORMALITAS SPERMATOZOA SEMEN SEGAR KAMBING DENGAN PEMBERIAN PAKAN SUPLEMEN EKSTRAK KUNYIT.
Scenario (Seminar of Social Sciences Engineering and Humaniora)
, [S.l.], p. 260-266, apr. 2023. Available at: <
https://jurnal.pancabudi.ac.id/index.php/scenario/article/view/4524
>. Date accessed: 26 sep. 2023.