IMPLEMENTASI CONTRACT FARMING MODELS PADA SKEMA SUPPLY CHAIN USAHA PENGGEMUKAN TERNAK DOMBA DI KABUPATEN LANGKAT
Julia Marisa

Universitas Pembangunan Panca Budi

Fachrina Wibowo

Universitas Pembangunan Panca Budi

Ridho Kurniawan

Universitas Pembangunan Panca Budi
Abstract
Langkat Regency has an excellent opportunity to carry out the sheep farming business process, but it does not rule out the possibility that in carrying out business activities, there are several obstacles that hinder the process. This obstacle is the performance of sheep farming in carrying out business development, in general, is still low, which will affect business competitiveness. The purpose of this research is to analyze the implementation of contract farming models in the research area. Data collection techniques include several techniques, namely using questionnaires through Focus Group Discussions (FGD), in-depth interviews with respondents, document analysis, informal discussions, and direct observation. The data analysis method used is Contract Farming Partnership Analysis. The results showed that the implementation of contract farming models in the study area showed that the supply chain performance results from the reliability attribute only reached an advantage position, so the performance of the supply chain for fattening sheep had to be further improved.
References
Aak. 2014. Pedoman Bertanam Bawang. Kanisius. Yogyakarta.
Abd. Rahim dan Riah Retno Dwi Hastuti. 2007. Ekonomika Pertanian, Pengantar Teori dan Kasus : Penebar Swadaya
Aritonang, D. 1993. Perencanaan dan Pengelolaan Usaha. Penebar Swadaya, Jakarta.
Badan Pusat Statistik (BPS). 2021. Statistik Produksi Daging Ternak Menurut Kabupaten/Kota dan Jenis Ternak (kg), 2020 dan 2021 Sumatera Utara. Badan Pusat Statistik. Medan.
Bahari, D. I. Z., Fanani, B.A. Nugroho. 2012. Analisis Sruktur Biaya dan Perbedaan Pendapatan Usaha Ternak Ayam Ras Pedaging pada pola dan Skala Usaha Ternak yang Berbeda di Kota Kendari Provinsi Sulawesi Tenggara. Jurnal Ternak Tropika vol. 13. No.1 (35-46)
Chamdi, A.N., 2003. Kajian Profil Sosial Ekonomi Usaha Kambing Di Kecamatan Kradenan Kabupaten Grobogan. Prosiding Seminar Nasional Teknologi Peternakan dan Veteriner. Bogor 29-30 September 2003.
Chandra, Charu., and, Sameer Kumar, 2000, Supply chain management in theory and practice : a passing fad or a fundamental change?, Industrial Management & Data Systems, Vol. 100/3, pp. 100-113
Cyrilla, L. dan Ismail. A., 1998. Usaha Peternakan. Diktat Kuliah. Jurusan Sosial
Ekonomi. Fakultas Peternakan. Institut Pertanian Bogor, Bogor.
Daniel, M. 2012. Pengantar Ilmu Ekonomi Peternakan. Penerbit Bumi Aksara,Jakarta.
Eaton, Andrew. dkk. 2005. Standard Methods for Examination of Water and Wastewater. 21st Edition. Marryland – USA : American Public Health Association.Eckenfelder. 2000. Industrial Water Pollution Control. Singapura: Mc Graw-Hill.
Hadiguna, R. A. 2015. "Manajemen Rantai Pasok Agroindustri." Andalas University Press. Padang
Kohls, R.L. and Uhl J.N. 2002. Marketing of Agicultural Products. Ninth Edition. Macmillan Company. New York.
Marisa, J., Sukma, S., dan Sitepu, A. 2020. Model kelembagaan bisnis ternak sapi potong di Desa Klambir V, Kecamatan Hamparan Perak, Kabupaten Deli Serdang, Sumatera Utara. Prosiding Webminar Nasional Series Sistem Pertanian Terpadu Dalam Pemberdayaan Petani di Era New Normal, 438-446.
Marisa, J., & Sitepu, S. A. (2018). Increased Revenues in Beef Cattle Business in Hamlet I Kelambir V Village in Hamparan Perak Sub-District Deli Serdang Regency. Journal of Saintech Transfer, 1(1), 54-57.
Nasir, M., 2011. Metode Penelitian. Ghalia Indonesia. Jakarta.

Nicholson, W. 2004. Intermediate Microeconomics And Its Application Eight. Edition. Harcourt Inc.
Nunes J. 2015. Strategi Pengembangan Usaha Tani Penggemukkan ternak domba Berorientasi Pasar Modern (Studi Kasus Kelompok Tani Liudiak Desa Liurai Distrik Aileu Timor Leste). Jurnal Ilmu Pertanian dan Peternakan. 3(1).
Simchi-Levi, D., Kaminsky, P., and Simchi-Levi, E., 2008, "Designing and Managing the Supply Chain: Concepts, Strategies and Case Studies", 3rd Edition, New York: McGraw-Hill.
Sitepu, S. A., dan Marisa, J. 2022. Efisiensi Reproduksi pada Pelaksanaan Inseminasi Buatan Ternak Domba. Tahta Media Group.
Sitepu, S. A., Marisa, J., Putra, A., dan Asmaq, N. 2021. Teknologi dalam Pembangunan Peternakan. Tahta Media
Group.
Sugiarto, 2015. Teori dan Praktik KemitraanAgribisnis. Penebar Swadaya, Jakarta.
Sutama, 2012. Agrbisnis Berbasis Peternakan. Pustaka Wirausaha Muda, Bogor.
Supriana, T dan Barus, R. 2010. Statistik Nonparametrik: Aplikasi dalam Bidang Sosial Ekonomi Pertanian. Universitas Sumatera Utara Press, Medan.
Tomaszewska, M. W,. I. M. Mastika., A. Djajanegara., S. Gardiner Dan T. R. Wiradarya., 1993. Produksi Kambing Dan Domba Di Indonesia. Sebelas Maret, Surabaya.
Wuwung SC. 2013. Manajemen Rantai Pasokan Produk Cengkeh pada Desa Wawona Minahasa Selatan. Jurnal EMBA. 1(3):230-238.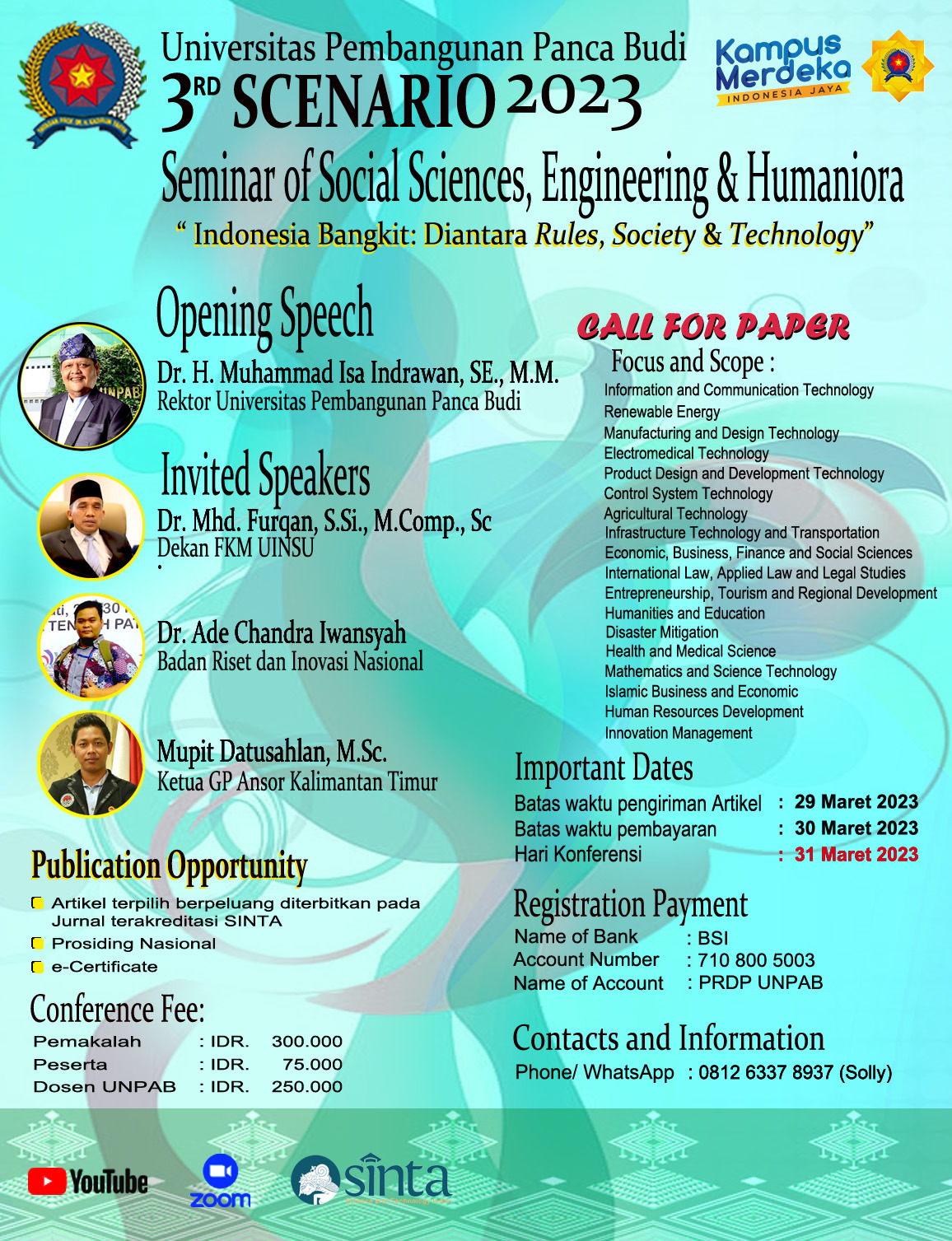 How to Cite
MARISA, Julia; WIBOWO, Fachrina; KURNIAWAN, Ridho. IMPLEMENTASI CONTRACT FARMING MODELS PADA SKEMA SUPPLY CHAIN USAHA PENGGEMUKAN TERNAK DOMBA DI KABUPATEN LANGKAT.
Scenario (Seminar of Social Sciences Engineering and Humaniora)
, [S.l.], p. 267-277, apr. 2023. Available at: <
https://jurnal.pancabudi.ac.id/index.php/scenario/article/view/4525
>. Date accessed: 26 sep. 2023.