KESETARAAN GENDER DAN KEADILAN UNTUK PARA PEREMPUAN KORBAN KEKERASAN DALAM RUMAH TANGGA (KDRT) DI KECAMATAN MEDAN KRIO
Ismaidar Ismaidar

Universitas Pembangunan Panca Budi

Sumarno Sumarno

Universitas Pembangunan Panca Budi
Abstract
This research aims to 1). Why does domestic violence still occur frequently in many places in Indonesia, especially in the Medan Krio sub-district, even though statutory products have been made to protect women's rights. 2). So what should be done in order to reduce violence and provide justice for women in Medan Krio District. Forms of violence against women still occur in many places where women are always associated as a marginal group who receive discriminatory treatment, experience depression, and are subordinated to male domination. The method used with data collection techniques with the method of literature study. And then collected from reports from related agencies such as Komnas Perempuan reports, and scientific books that carry out similar studies, these secondary data are then interpreted qualitatively and supported by several scientific concepts and theories that have been put forward previously as a knife for analysis. It is hoped that this paper can raise awareness of the issue of violence against women in academic studies and provide sharpening of analysis and perspectives on this issue.
References
Arifin, HM. Arifin, 2015, Hubungan Timbal Balik Pendidikan di Lingkungan Sekolah dan Keluarga, Bulan Bintang, Jakarta.
Direktorat Pembinaan Pendidikan Masyarakat, 2014, Norma, Standar, Prosedur, dan Kriteria Petunjuk Teknis Penyelenggaraan Program Pendidikan Keluarga Berwawasan Gender (PKBG) dan Tatacara Memperoleh Dana Bantuan Dari Direktorat Pembinaan Pendidikan Masyarakat, Direktur Jenderal Pendidikan Anak Usia Dini, Nonformal, dan Informal, Jakarta.
Echols, John M. & Hassan Shadily, 1983, Kamus Inggris Indonesia, Gramedia, Jakarta.Fakih, Mansour, 2016, Analisis Gender & Transformasi Sosial, Pustaka Pelajar, Yogyakarta.Gamble, S, 2010, Feminisme Dan Postfeminisme, Jalasutra, Yogyakarta.
Gerung, R, 2016, Hak Asasi Manusia: Teori, Hukum, Kasus, Filsafat UI Press, Jakarta.
Heater, Derek, 2012, What Is Citizenship, Polity Press, Cambridge.
Komnas Perempuan, 2012, Catatan Tahunan 2012,
Komnas Perempuan, Jakarta.
Little, William, 2012, The Shorter Oxford English Dictionery, Oxford University Press, Oxford.Megawangi,
Ratna. 2015. Membiarkan Berbeda Sudut Pandang Baru Tentang Relasi Gender.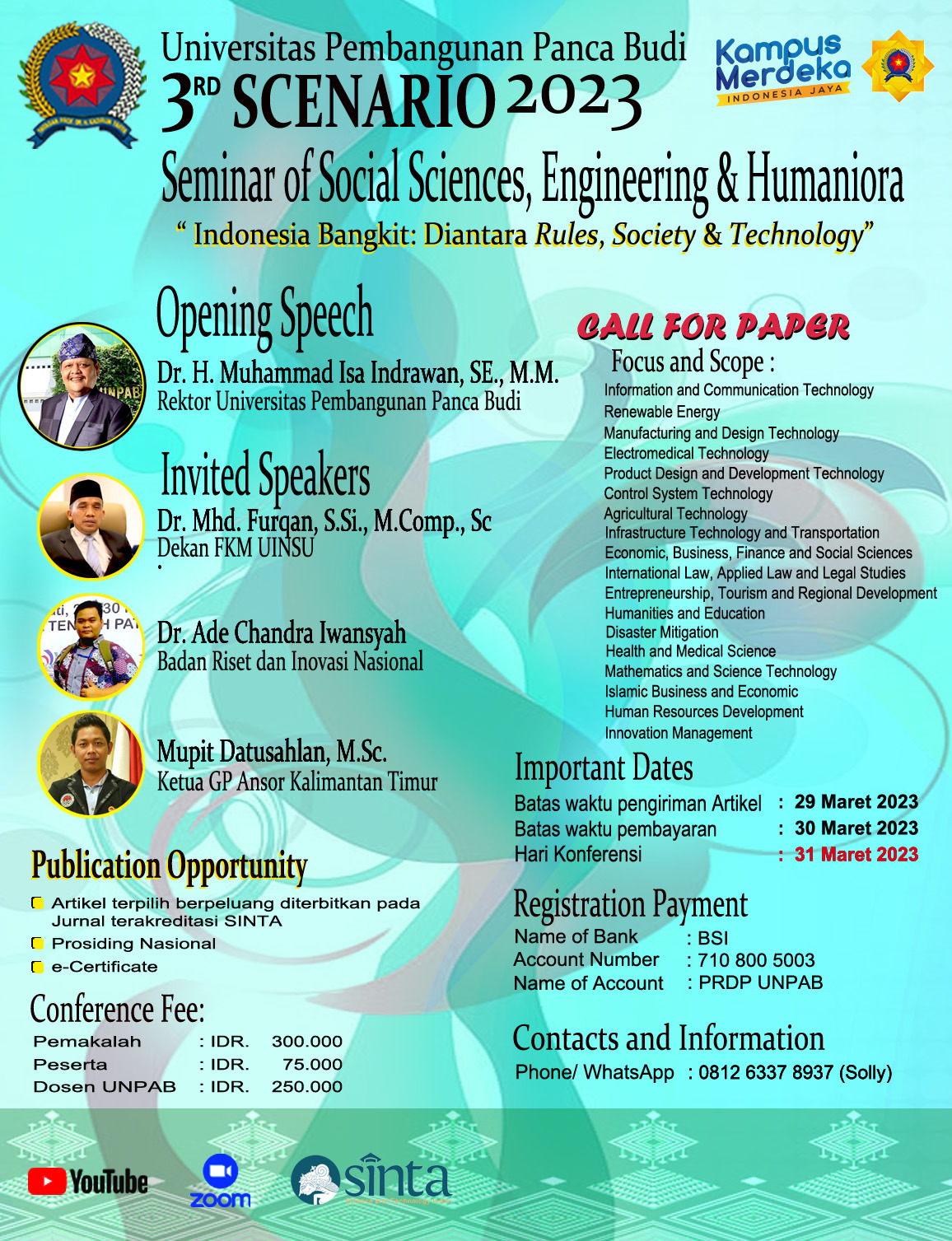 How to Cite
ISMAIDAR, Ismaidar; SUMARNO, Sumarno. KESETARAAN GENDER DAN KEADILAN UNTUK PARA PEREMPUAN KORBAN KEKERASAN DALAM RUMAH TANGGA (KDRT) DI KECAMATAN MEDAN KRIO.
Scenario (Seminar of Social Sciences Engineering and Humaniora)
, [S.l.], p. 285-289, apr. 2023. Available at: <
https://jurnal.pancabudi.ac.id/index.php/scenario/article/view/4527
>. Date accessed: 26 sep. 2023.