PENGARUH KEMAMPUAN SUMBER DAYA UNIK DAN SOSIAL COMMERCE TERHADAP KEUNGGULAN BERSAING PADA UKM DI DESA KLAMBIR LIMA DELI SERDANG
Nashrudin Setiawan

Universitas Pembangunan Panca Budi

Rindi Andika

Universitas Pembangunan Panca Budi

Teguh Wahyono

Universitas Pembangunan Panca Budi
Abstract
The purpose of this research is to investigate how Unique Resource Capabilities and Social Commerce affect the Competitive Advantage of Small and Medium Enterprises (SMEs) in Klambir 5 District, using the Multiple Regression Analysis approach. The study used a sample of 83 respondents, calculated using the Slovin formula. The aim is to develop a model that applies unique resource capabilities and appropriate social commerce to enhance the overall competitive advantage and increase the productivity of SMEs, thereby benefiting both the entrepreneurs and the community in Klambir Lima and the surrounding areas. The unique resource capabilities consist of Tangible Assets, Intangible Assets, and Organizational Assets, which are expected to enhance the level of business for SMEs. Continuous improvement of the business is important for SMEs to sustain growth and remain competitive in their respective regions. Social commerce is a type of e-commerce that utilizes social media and online platforms to facilitate transactions and interactions between buyers and sellers. This may involve exchanging money, or in some cases, may not involve any monetary exchange at all.
References
Anoraga, P. (2019). Manajemen Bisnis. Semarang: PT. Rineka Cipta
Gomes, F. C. (2018). Manajemen Sumber Daya Manusia. Yogyakarta: Penerbit
Andi. Handoko, T. H, (2019). Manajemen Personalia dan Sumber Daya Manusia. Yogyakarta: Penerbit BPFE
Hariandja, M. T. E. (2018). Manajemen Sumber Daya Manusia. PT. Grasindo
Hasibuan, M. S. (2017). Manajemen Sumber Daya Manusia, Edisi Revisi. Jakarta: Bumi Aksara.
Mangkunegara, A. P. (2016). Evaluasi Kinerja Sumber Daya Manusia, Cetakan Ketiga. Bandung: Refika Aditama.
Manullang, M. & Manuntun, P. (2019). Metode Penelitian: Proses Penelitian Praktis. Bandung: Cipta Pustaka Media.
Munandar, A. S. (2017). Psikologi Industri dan Organisasi. Jakarta; Universitas Indonesia (UI Press).
Nitisemito, A. S. (2019). Manajemen Personalia (Manajemen Sumber Daya Manusia, Edisi Kelima, Cetakan Keempat belas. Jakarta; Ghalia Indonesia.
Pelly, C., Menanti, D. (2018). Teori-Teori Sosial Budaya. Jakarta: Direktorat Jendral Pendidikan Tinggi Departemen Pendidikan dan Kebudayaan.
Richard, S. M. (2015). Efektivitas Organisasi (Terjemahan). Jakarta: Erlangga.
Ravianto, J. (2018). Manajemen Personalia. Jakarta: Penerbit Erlangga.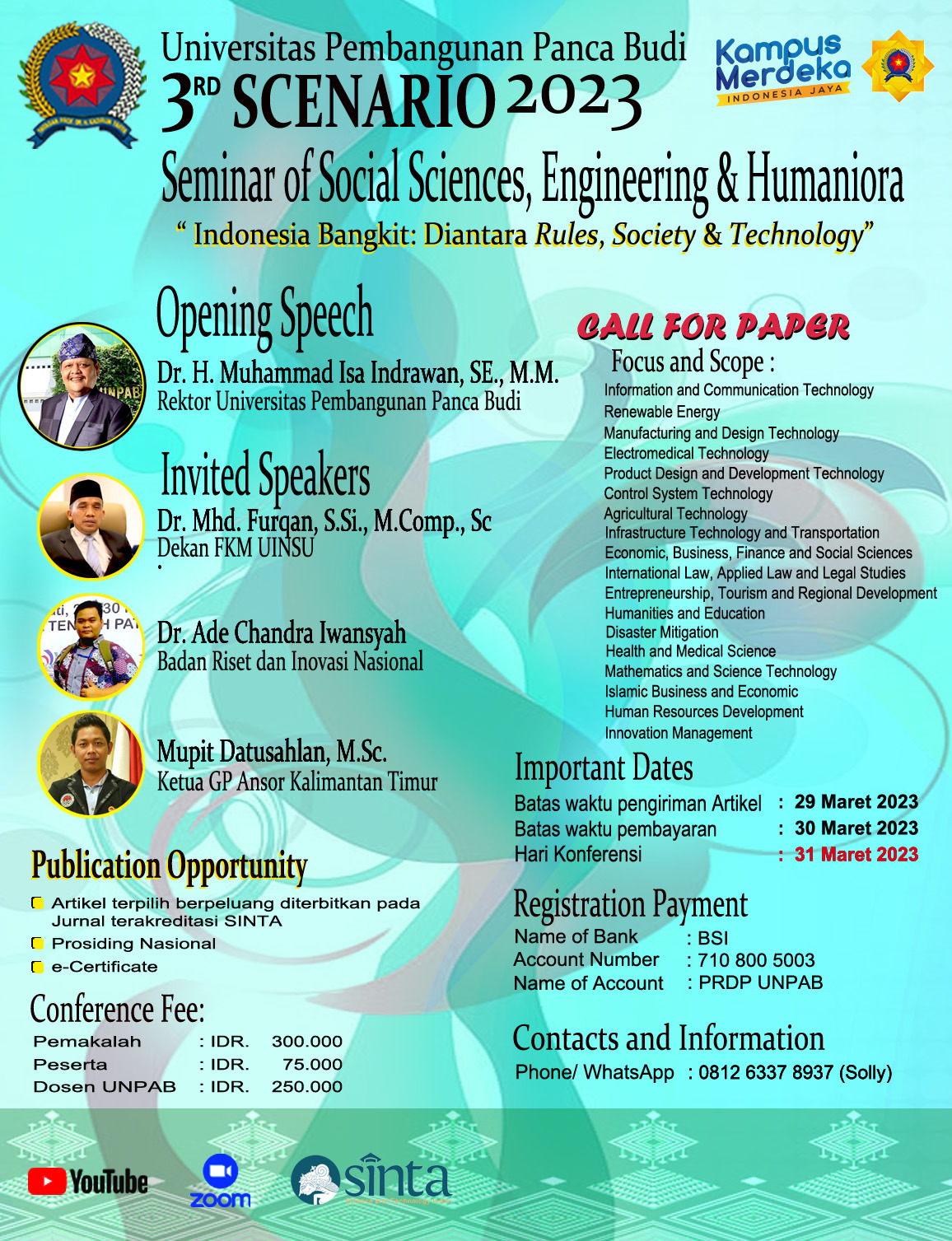 How to Cite
SETIAWAN, Nashrudin; ANDIKA, Rindi; WAHYONO, Teguh. PENGARUH KEMAMPUAN SUMBER DAYA UNIK DAN SOSIAL COMMERCE TERHADAP KEUNGGULAN BERSAING PADA UKM DI DESA KLAMBIR LIMA DELI SERDANG.
Scenario (Seminar of Social Sciences Engineering and Humaniora)
, [S.l.], p. 290-296, apr. 2023. Available at: <
https://jurnal.pancabudi.ac.id/index.php/scenario/article/view/4528
>. Date accessed: 26 sep. 2023.