PARADOKS MODERNISASI VIS A VIS DEHUMANISASI DALAM PENGELOLAAN KEUANGAN DESA
Puja Rizqy Ramadhan

Universitas Pembangunan Panca Budi

Fitri Yani Panggabean

Universitas Pembangunan Panca Budi

Nia Pratiwi Lubis

Universitas Pembangunan Panca Budi
Abstract
This study aims to reconstruct village financial management using modernity vis a vis dehumanizaton perspective. This study uses primary data obtained from observations and interviews with informants. The research approach used is a qualitative method. The research paradigm uses the paradigm of criticism with data collection procedures, data presentation, data reduction and conclusion/verification. The results showed that the modernization and digitization of financial management in Klambir V Kebun Village had an impact on social relations in the community, which became less harmonious. For this reason, it is necessary to carry out an accounting reconstruction based modernity vis a vis dehumanizaton perspective that is relevant to be carried out in Klambir V Kebun Village.
References
Fromm, Erich. (2006). Dari Pembangkangan Menuju Sosialisme Humanistik. Terj: Tri Bambang Murtianto. Jakarta: Pelangi Cendekia, 2006.
Fromm, Erich. (1968) The Revolution of Hope : Toward a Humanized Technology, New York : Harper & Raw.
Fromm, Erich. (1996) Escape From Freedom, New York : Holt.
Indonesian Corruption Watch. (2021). https://nasional.kompas.com/read/2021/03/22/18093371/icw-perangkat-desa-dominasi-terdakwa-kasus-korupsi-dana-desa-perlu-diawasi?page=all
Kementerian Desa, Pembangunan Daerah Tertinggal, dan Transmigrasi Republik Indonesia. (2021). https://manguntara.desa.id/digitalisasi-program-prioritas-pembangunan-desa-2021. Diakses 11 November 2021.
Kementerian Sosial Republik Indonesia (2021). https://mediaindonesia.com/humaniora/365709/kemensos-3150-desa-di-indonesia-rawan-konflik-sosial. Diakses 11 November 2021
Lasut, Jouke J. (2010). Pembahasan Teori Sosiologi Sistem Umum Talcot Parsons
Nadhiroh, Nufi Ainun. (2015). Alienasi Manusia Modern; Kritik Modernitas dalam Pemikiran Erich Fromm. Jurnal Refleksi, Volume 15. Nomor 1. Januari 2015.
Setiawan, A. (2019). Membangun Indonesia Dari Pinggiran Desa. Setkab.Go.Id. https://setkab.go.id/membangunindonesia-dari-pinggiran-desa/
Undang-undang No. 6 Tahun 2014 tentang Des
Warsito, & Muttaqin, H. (2012). Humanisme dan Petaka Modern. Jurnal Sosiologi Islam, 2(2).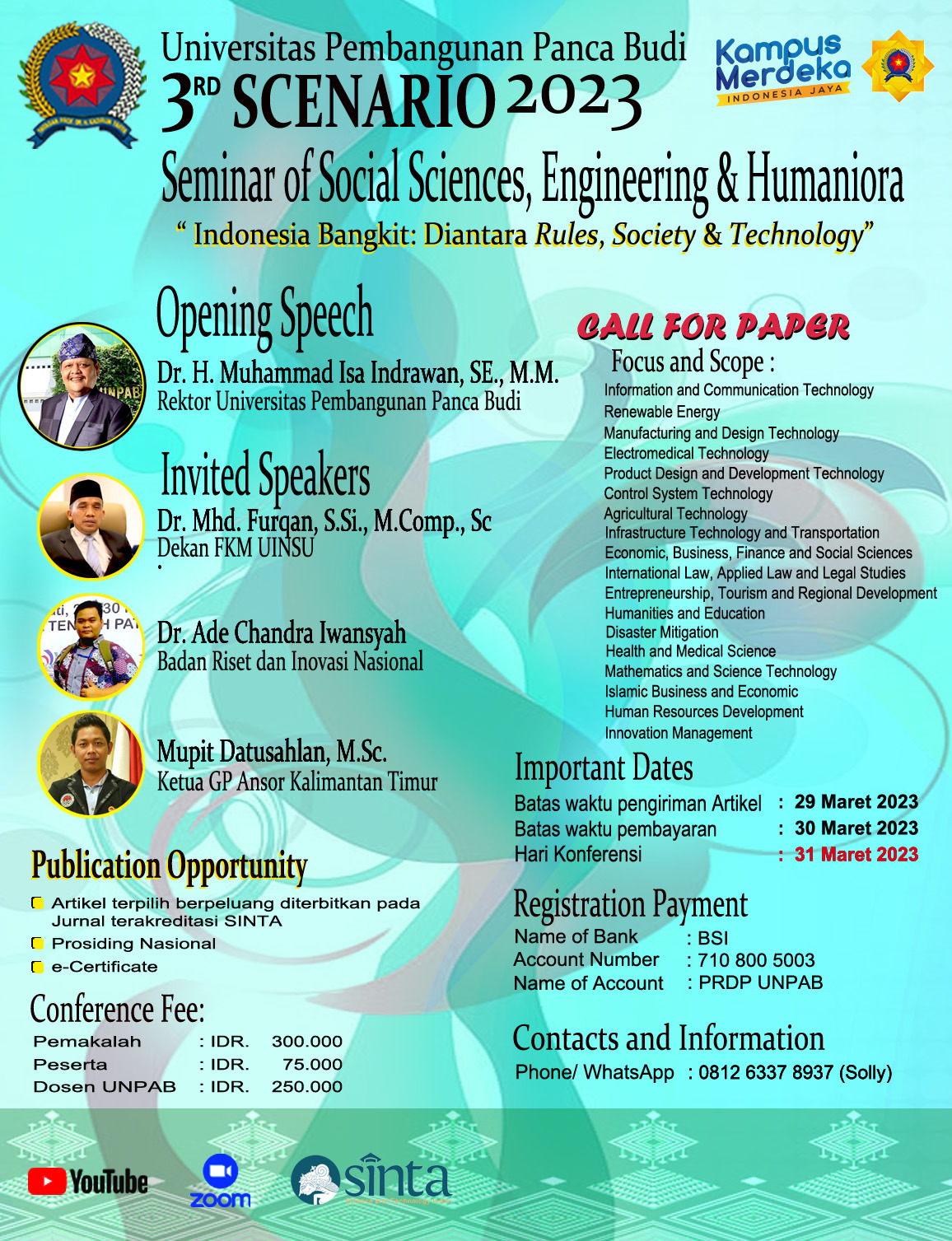 How to Cite
RAMADHAN, Puja Rizqy; PANGGABEAN, Fitri Yani; LUBIS, Nia Pratiwi. PARADOKS MODERNISASI VIS A VIS DEHUMANISASI DALAM PENGELOLAAN KEUANGAN DESA.
Scenario (Seminar of Social Sciences Engineering and Humaniora)
, [S.l.], p. 297-303, apr. 2023. Available at: <
https://jurnal.pancabudi.ac.id/index.php/scenario/article/view/4529
>. Date accessed: 26 sep. 2023.