PENDIDIKAN AGAMA ANAK USIA DINI DALAM PENGASUHAN ETNIS JAWA DAN MELAYU DI TK ALFIA NUR HAMPARAN PERAK
Mhd. Habibu Rahman

Universitas Pembangunan Panca Budi

Sofni Indah Arifa Lubis

Universitas Pembangunan Panca Budi

Dwi Anggraini

Universitas Pembangunan Panca Budi
Abstract
Religious education needs to be introduced and instilled in children from an early age as an effort to form a spiritually strong generation. In fact, every human being is born with the potential for spiritual intelligence. The potential that every child has will develop rapidly if they get care that is appropriate to the child's development. The fact is that every ethnicity has different characteristics and parenting styles. For example, the Javanese and Malay ethnic groups, each of which has its own way of instilling religious values in children from an early age. The purpose of this study was to determine the form of early childhood religious education in the care of Javanese and Malay ethnicity in TK Alfia Nur Hamparan Perak. The method used in this research is a qualitative research method. Data collection techniques were carried out by means of observation and interviews. All existing data were analyzed by means of data condensation, data display and verification stages. The results of this study indicate that the form of instilling religious values in early childhood in the upbringing of Javanese and Malay ethnicities uses storytelling, example and habituation methods, furthermore ethnic characteristics in parents influence parenting style and have implications for the form of instilling religious values in early childhood. Therefore, the parenting culture that parents receive should not be purely applied to children, nor should it be completely abandoned.
References
Adibsereshki, N., Rafi, M. A., & Aval, M. H. (2018). Looking into some of the risk factors of mental health : the mediating role of maladaptive schemas in mothers ' parenting style and child anxiety disorders. https://doi.org/10.1108/JPMH-08-2017-0028
Alo Liliweri. (2002). Makna Budaya dalam Komunikasi antar Budaya. LkiS Pelangi Aksara.
Asrori, H. A. (2015). Islamic Education Development Strategy In Facing The Global Challenges. International Journal of Science and Research (IJSR), 4(11), 587–592.
Azyumardi Azra. (2012). Pendidikan Islam: Tradisi dan Modernisasi di Tegah Tantangan Millenium III. Kencana.
Borba, M. (2008). Membangun Kecerdasan Moral (p. 7). Gramedia Pustaka Utama.
Danah Zahar, I. M. (2002). SQ Memanfaatkan Kecerdasan Spiritual dalam Berfikir Integralistik dan Holistik untuk Memaknai Kehidupan. Mizan.
Fathi Mahmoud Ihmeideh dan Aseel Akram Shawareb. (2014). The Association Between Internet Parenting Stylesand Children's Use of the Internet at Home. Journal of Research in Childhood Education, Vol. 28 Ok, 411–425.
Hart, J. R., Coates, E. E., & Bynum, M. A. S. (2019). Parenting Style and Parent-Adolescent Relationship Quality in African American Mother- Adolescent Dyads. May. https://doi.org/10.1080/15295192.2019.1642085
Jane Brooks. (2011). The Process of Parenting (Rahmat Fajar (ed.)). Pustaka Pelajar.
Mansur. (2011). Pendidikan Anak Usia Dini dalam Islam (Yogyakarta). Pustaka Pelajar.
Maragustam. (2015). Filsafat Pendidikan Islam: Menuju Pembentukan Karakter Mengahadapi Arus Global. Kurnia Kalam Semesta.
Maurice J. Elias, S. E. T. & B. S. F. (2003). Cara-cara Efektif Mengasuh Anak dengan EQ: Mengapa Penting Membina Disiplin Diri, Tanggung Jawab dan Kesehatan Emosional Anak-anak pada Masa Kini (M. J. Fuad (ed.)). Kaifa.
Mhd. Habibu Rahman, D. (2020). Pengembangan Nilai Moral dan Agama Anak Usia Dini: Panduan Bagi Orang Tua, Guru, Mahasiswa, dan Praktisi PAUD. Edu Publisher.
Muhammad Nur Abdul Hanif Suwaid. (2010). Propetic Parenting: Cara Nabi Mendidik Anak. Pro-U Media.
Muhammad Sholikin. (2008). Filsafat dan Metafisika dalam Islam, Sebuah Penjelajahan Nalar, pengalaman Mistik, dan Perjalanan Aliran Manunggaling Kawula-Gusti (p. 75). Buku Kita.
Nashiruddin, B. (2021). Implementasi Pendidikan Agama Islam pada Anak Usia Dini dalam Keluarga di Desa Simo Kecamatan Slahung Kabupaten Ponorogo. eprints.umpo.ac.id. http://eprints.umpo.ac.id/8542/
Purwanti, E., Susanti, S. S., & ... (2021). PENGARUH LATAR BELAKANG PENDIDIKAN KEAGAMAAN ORANGTUA TERHADAP PENGAMBANGAN NILAI AGAMA DAN MORAL ANAK USIA DINI DI TK …. … Pendidikan …. http://ejournal.staidarussalamlampung.ac.id/index.php/azzahra/article/view/289
Rahmat, J. (2002). Psikologi Agama. Raja Grafindo Persada.
Rochmah, S. N. (2019). Konsep Pendidikan Agama Bagi Anak Usia Dini. Jurnal Edukasi Sebelas April. https://jurnal.stkip11april.ac.id/index.php/JESA/article/view/54
Siti Naila Fauzia. (2015). Perilaku Keagamaan Islam pada Anak Usia Dini (p. 304). PPS Universitas Negeri Jakarta.
Triantoro Safaria. (2007). Spiritual Intelegence (Metode Pengembangan Kecerdasan Spiritual Anak) (pp. 11–12). Graha Ilmu.
Xie, X. L. & J. (2017). Parenting Styles Of Chinese Families and Children'sSocial-Emotional and Cognitive Developmental Outcomes. European Early Childhood Education Research Journal, Vol. 25, N, 637–650.
Yip, F. W. L., Zelman, D., & Low, A. (2019). How to improve parenting in Hong Kong by training : the 6As Positive Parenting Program. 22(1), 55–70. https://doi.org/10.1108/PAP-04-2019-0003
Zulfa, R. S., Surana, D., & Hakim, A. (2022). Penanaman Nilai-Nilai Pendidikan Agama Islam pada Anak Usia Dini melalui Program Hafalan Al-Qur'an. … Series: Early Childhood …. https://proceedings.unisba.ac.id/index.php/BCSECTE/article/view/4397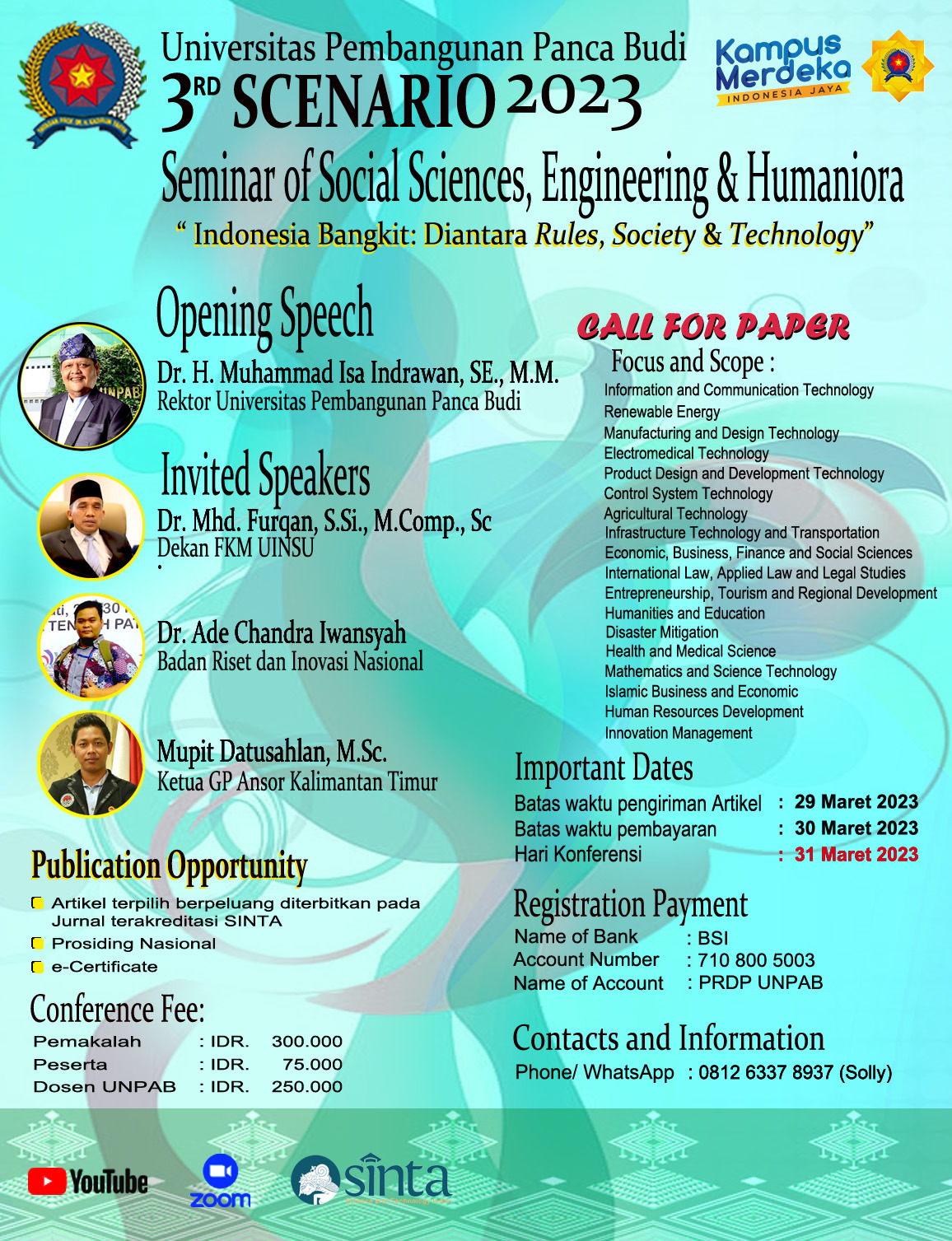 How to Cite
RAHMAN, Mhd. Habibu; ARIFA LUBIS, Sofni Indah; ANGGRAINI, Dwi. PENDIDIKAN AGAMA ANAK USIA DINI DALAM PENGASUHAN ETNIS JAWA DAN MELAYU DI TK ALFIA NUR HAMPARAN PERAK.
Scenario (Seminar of Social Sciences Engineering and Humaniora)
, [S.l.], p. 312-321, apr. 2023. Available at: <
https://jurnal.pancabudi.ac.id/index.php/scenario/article/view/4532
>. Date accessed: 26 sep. 2023.