FAKTOR KEPEMIMPINAN DAN KOMPENSASI DALAM PENGUKURAN LOYALITAS PEGAWAI
Soulthan Saladin Batubara

Universitas Pembangunan Panca Budi

Edi Saputra Matondang

Universitas Pembangunan Panca Budi

Bima Satria

University Pembangunan Panca Budi Medan
Abstract
Employee work loyalty can be understood as affective commitment among employees. To be able to increase loyalty, organizations are required to develop, and manage their human resources to be able to work professionally. This human resource management really needs support from top management as the first step. In addition, employees who get compensation that meets their living needs will tend to be more loyal to the company. This study was conducted to see the influence of leadership and compensation on employee loyalty of the Binjai City Transportation Office. This study used an associative approach with a correlational analytic design. Data is collected through questionnaires, interviews and documentation studies. Questionnaires are calculated with likert scale measurement units, and processed using the SPSS (statistical product and service solution) program The results of the study showed that both partially and simultaneously the variable of leadership and compensation had a positive and significant effect on employee loyalty.
References
Abdullah, R. B., M. M. Samsudin, R. N. Armia., dan N. Derani. 2017. The Study of Teamwork and its Effects towards Loyalty in Hotel Industry in Klang Valley, Malaysia. International Journal of Academic Research in Progressive Education and Development January 2017, Vol. 1, No. 1.
Akhigbe, O. J., & Ifeyinwa, E. E. 2017. Compensation And Employee Loyalty Among Health Workers In Nigeria. Archives of Business Research, 5(11).
Dessler, G., 2017. Manajemen Sumber Daya Manusia. Edisi Kesepuluh, Jilid 2. Jakarta : PT. Indeks.
Dubrin, Andrew J., 2005. Leadership (Terjemahan). Edisi Kedua. Prenada Media. Jakarta.
Dongoran, F. R., & Batubara, S. S., 2019. Pengaruh Kepemimpinan dan Kompensasi Terhadap Kinerja Pegawai Dinas Perhubungan Kota Binjai EduTech: Jurnal Ilmu Pendidikan dan Ilmu Sosial, 5(1).
Ghozali, Imam. 2013. Aplikasi Analisis Multivariate dengan Program SPSS. Semarang: UNDIP.
Hasibuan, Malayu. S.P. 2005. Manajemen Sumber Daya Manusia, Edisi Revisi. Jakarta: Bumi Aksara.
Kusumo, A. 2016. Manajemen Personalia. Yogyakarta: Penerbit BPFE
Mangkunegara, A.A. Anwar Prabu. 2006. Evaluasi Kinerja SDM, Bandung: Refika Aditama.
Mangkuprawira, Sjafri. 2004. Manajemen Sumber Daya Manusia Strategik. Jakarta: Ghalia Indonesia.
Mondy, R. Wayne. 2008. Manajemen Sumber Daya Manusia. Jakarta: Erlangga.
Nitisemito, Alex S. 2005. Manajemen Personalia-Manajemen Sumber Daya Manusia. Jakarta: PT Ghalia.
Putra, I. W. S., & Sriathi, A. A. A. 2019. Pengaruh Lingkungan Kerja, Stres Kerja dan Kompensasi Terhadap Loyalitas Karyawan. E-Jurnal Manajemen, Vol. 8, No. 2, 2019: 7746 – 7774.
Rivai, Veithzal. 2004. Manajemen Sumber Daya Manusia untuk Perusahaan. Jakarta: Raja Grafindo Persada.
Robbins P., Stephen. 2008. Organizational Behaviour Tenth Edition (Perilaku Organisasi Edisi Kesepuluh). Alih Bahasa. Benyamin Molan. Jakarta: Salemba Empat.
Sedarmayanti., 2019. Sumber Daya Manusia dan Produktivitas Kerja. Cetakan kedua. Bandung: CV. Mandar Maju
Siagian, Sondang P. 2006. Manajemen Sumber Daya Manusia. Edisi I, Cetakan Ketiga Belas, Jakarta: Bumi Aksara.
Soegandhi, A. 2018. Manajemen Sumber Daya Manusia. Yogyakarta; PT Buku Seru.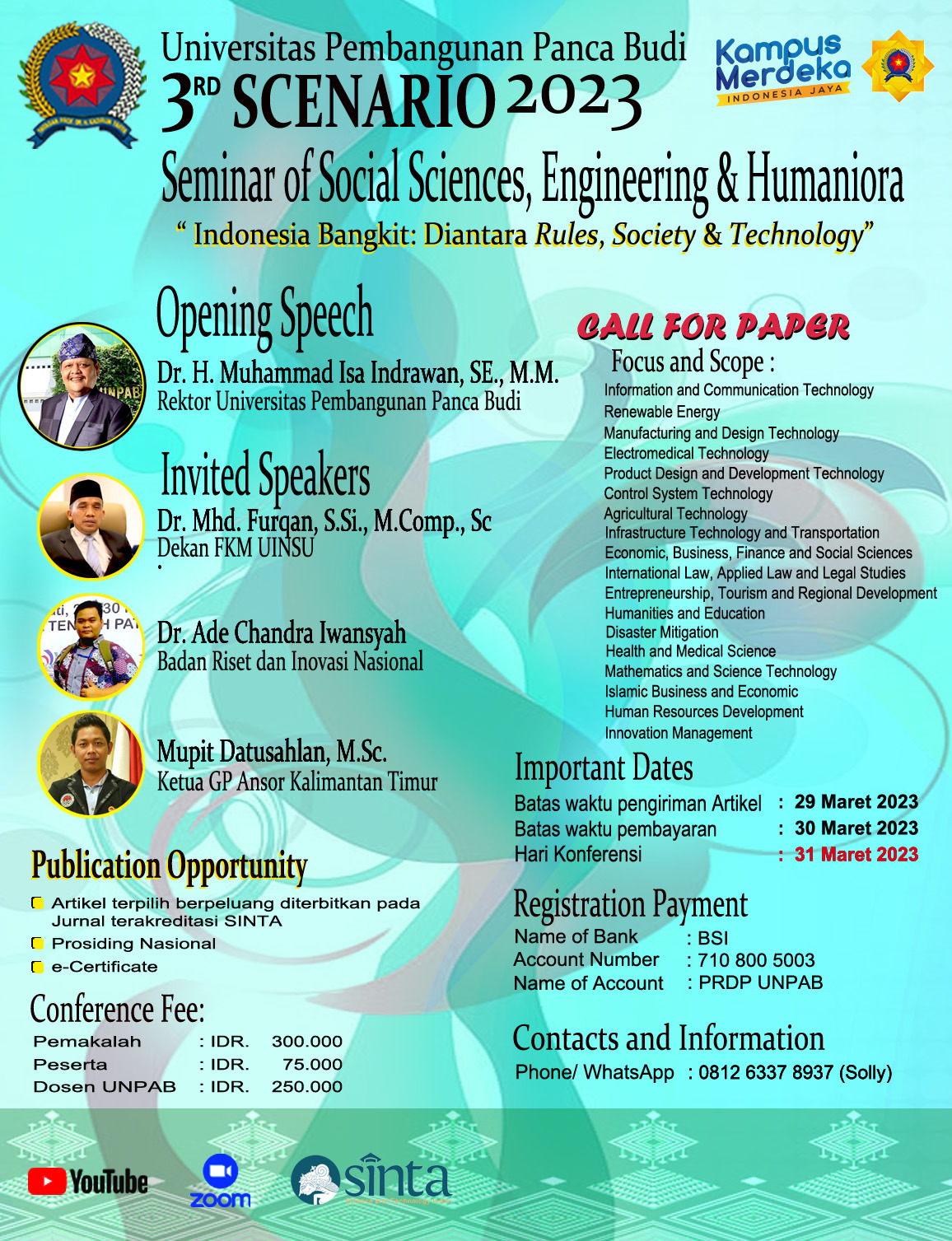 How to Cite
BATUBARA, Soulthan Saladin; MATONDANG, Edi Saputra; SATRIA, Bima. FAKTOR KEPEMIMPINAN DAN KOMPENSASI DALAM PENGUKURAN LOYALITAS PEGAWAI.
Scenario (Seminar of Social Sciences Engineering and Humaniora)
, [S.l.], p. 357-364, apr. 2023. Available at: <
https://jurnal.pancabudi.ac.id/index.php/scenario/article/view/4537
>. Date accessed: 26 sep. 2023.