ALTERNATIF PENYELESAIAN SENGKETA MELALUI PANGULU DALAM MENYELESAIKAN SENGKETA ANTAR MASYARAKAT DI NAGORI SILAU PARIBUAN KABUPATEN SIMALUNGUN
Abdul Rahman Maulana Siregar

University Pembangunan Panca Budi Medan

Rahul Ardian Fikri

University Pembangunan Panca Budi Medan

Mhd. Azhali Siregar

University Pembangunan Panca Budi Medan

Nurul Amini

University Pembangunan Panca Budi Medan
Abstract
The reason for the people in Nagori Silau Paribuan, Silau Kahean District, Simalungun Regency to resolve disputes that are resolved to be resolved through the role of Pangulu without going through the courts as a way to reach a consensus or seek a decision that is considered effective and efficient because the settlement by way of litigation or through the court is a party that loses and wins so that it causes suffering to the losers. The results achieved in dispute resolution are win win solutions. The research objective is to find out alternative dispute resolution through Pangulu in resolving disputes between communities in Nagori Silau Paribuan, Simalungun Regency. The method used is a normative juridical approach and an empirical juridical approach, namely by conducting field research. The normative juridical approach is carried out by studying literature or using secondary data with the aim of approaching the problem, applicable laws and regulations and reading sources that are relevant to the research theme. Because of the large number of disputes resolved through the courts, an alternative is needed in resolving disputes without going through the courts with the role of Pangulu. Disputes resolved through court will result in a win-lose decision, while disputes resolved outside the court will result in a win-win solution for the disputing parties. Keywords: Alternative Dispute Resolution, Pangulu, Community
References
ANRI, SoK Serie Ie No. Reel Film 21 Memorie van Overgave der Onderafdeling Simeloengoen,
Simeloengoen en Karolanden, Sumatra's Oostkust W.C. van Gelder, 1911.
Damanik, Jahutar, Jalannya Hukum Adat Simalungun, Pematang Siantar: P.D. Aslan, 1974, hal. 26.
Erwina, Liza, 2012, Ilmu Hukum, Pustaka Bangsa Press, Medan.
Gabriel, Maxwell and H. Hayes. Restorative Justice Developments in the Pacific Region: A
Comprehensive Survey. Dalam Contemporary Justice Review, 9 (2), 2006.
Kabupaten Simalungun Dalam Angka 2022", www.simalungunkab.bps.go.id.
Marzuki, Peter Mahmud, Penelitian Hukum, Prenada Mulia, Jakarta.
Nurtjahjo, Hendra dan Fokky Fuad, 2010, Legal Standing Kesatuan Masyarakat Hukum Adat "Dalam
Berperkara Di Mahkamah Konstitusi", Salemba Humanika, Jakarta.
Pat Howley, Incorporating Custom Law into State Law in Melanesia, (Queensland: International Diploma
in Restorative Justice at Queens University, 2007, Hal. 1.
Purba, Md., 2009, Lintasan Sejarah Kebudayaan Simalungun, 1986, Dalam Buku Tuanku Luckman Sinar
Basarshah-II Dan Letkol. Purn. Md. Purba, Lintasan Adat Dan Budaya Simalungun, Forum
Komunikasi Antar Lembaga Adat (Forkala) Sumatera Utara.
Soekanto, Soerjono dan Sri Mamudji, 2001, Penelitian Hukum Normatif Suatu Tinjauan Singkat, PT.
Raja Grafindo Persada, Cet. V, Jakarta.
Usman, Rachmadi, 2003, Pilihan Penyelesaian Sengketa Diluar Pengadilan, Bandung: Citra Aditya
Bakti.
Widjaja, Gunawan dan Ahmad Yani, 2000, Hukum Arbitrase, Jakarta: Raja Grafindo Persada.
Zulaeha, Mulyani, Mediasi Interest Based dalam Penyelesaian Sengketa Tanah, Jurnal Ilmiah Fakultas
Hukum Universitas Udayana, Kertha Patrika, Vol. 38, No. 1, Januari-April 2016.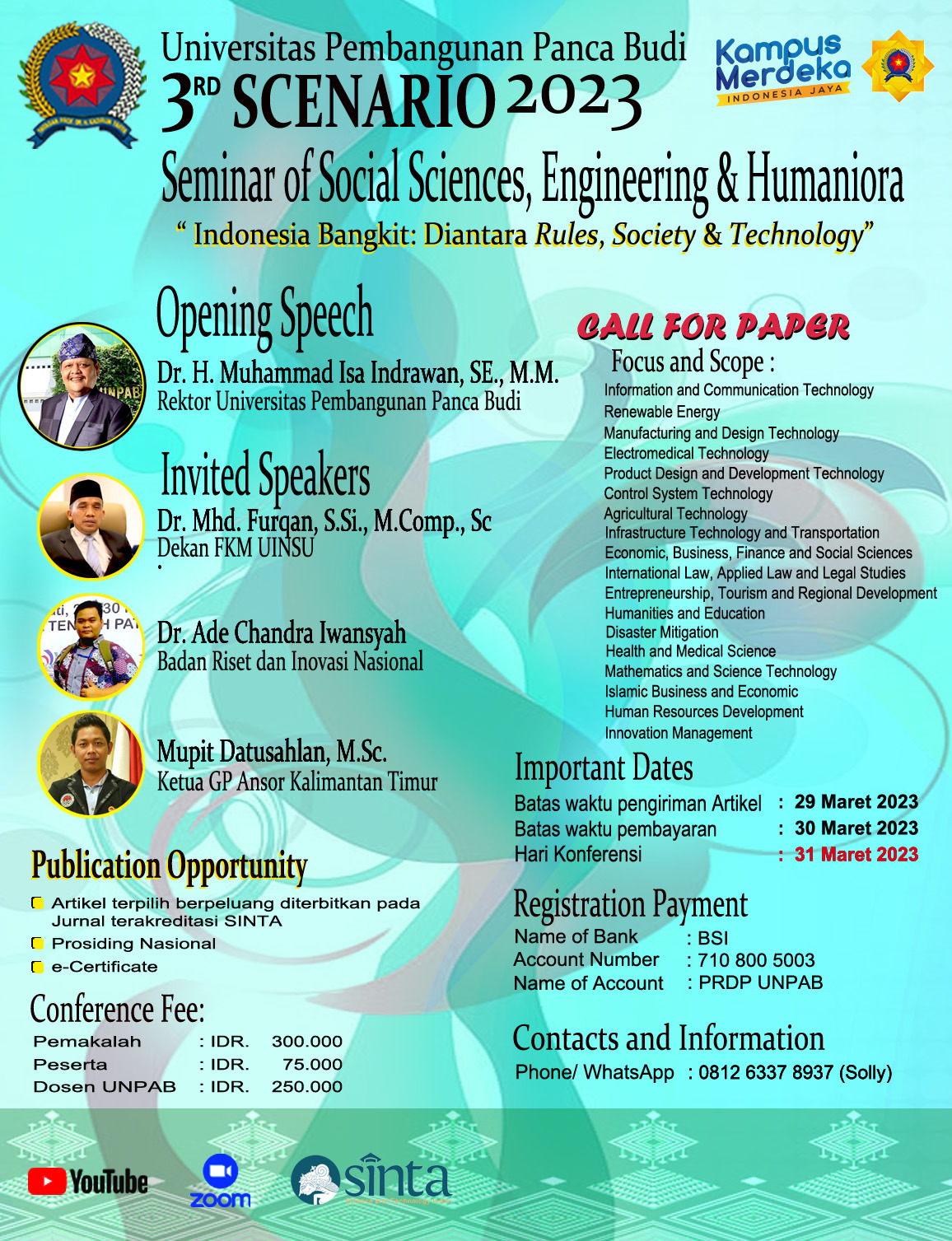 How to Cite
SIREGAR, Abdul Rahman Maulana et al. ALTERNATIF PENYELESAIAN SENGKETA MELALUI PANGULU DALAM MENYELESAIKAN SENGKETA ANTAR MASYARAKAT DI NAGORI SILAU PARIBUAN KABUPATEN SIMALUNGUN.
Scenario (Seminar of Social Sciences Engineering and Humaniora)
, [S.l.], p. 481 - 488, june 2023. Available at: <
https://jurnal.pancabudi.ac.id/index.php/scenario/article/view/4584
>. Date accessed: 26 sep. 2023.