PENGARUH EFEKTIVITAS PEMUNGUTAN BEA PEROLEHAN HAK ATAS TANAH DAN BANGUNAN (BPHTB) TERHADAP PENDAPATAN ASLI DAERAH DENGAN JUMLAH PENDUDUK SEBAGAI VARIABEL MODERATING
Miftha Rizkina;
Abstract
The purpose of this study is to test hypotheses and provide an explanation of the phenomenon of relationship between variables so that it can be seen the effect of the Effectiveness of BPHTB Collection on PAD or Original Revenue from the Regions and the influence of the Total Population on the existing relationship between the Effectiveness of BPHTB Collection with PAD. The method used is causal research (causal research). And observed 162 units of analysis. Retrieval of data by pooling data that is time series data combined with cross section of 27 districts for 6 semesters or 3 years of observation (2015-2017) provided that the BPHTB and PAD reports are issued and the number taken population based on
the number of family heads. Data processing is done by Multiple Regression Analysis and Multiple Regression Analysis. The conclusion obtained is that the effectiveness of BPHTB collection can affect PAD positively and significantly. And Population as a moderating variable is able to influence the relationship
between the effectiveness of BPHTB Collection on PAD. So that the population is a moderating variable for this study.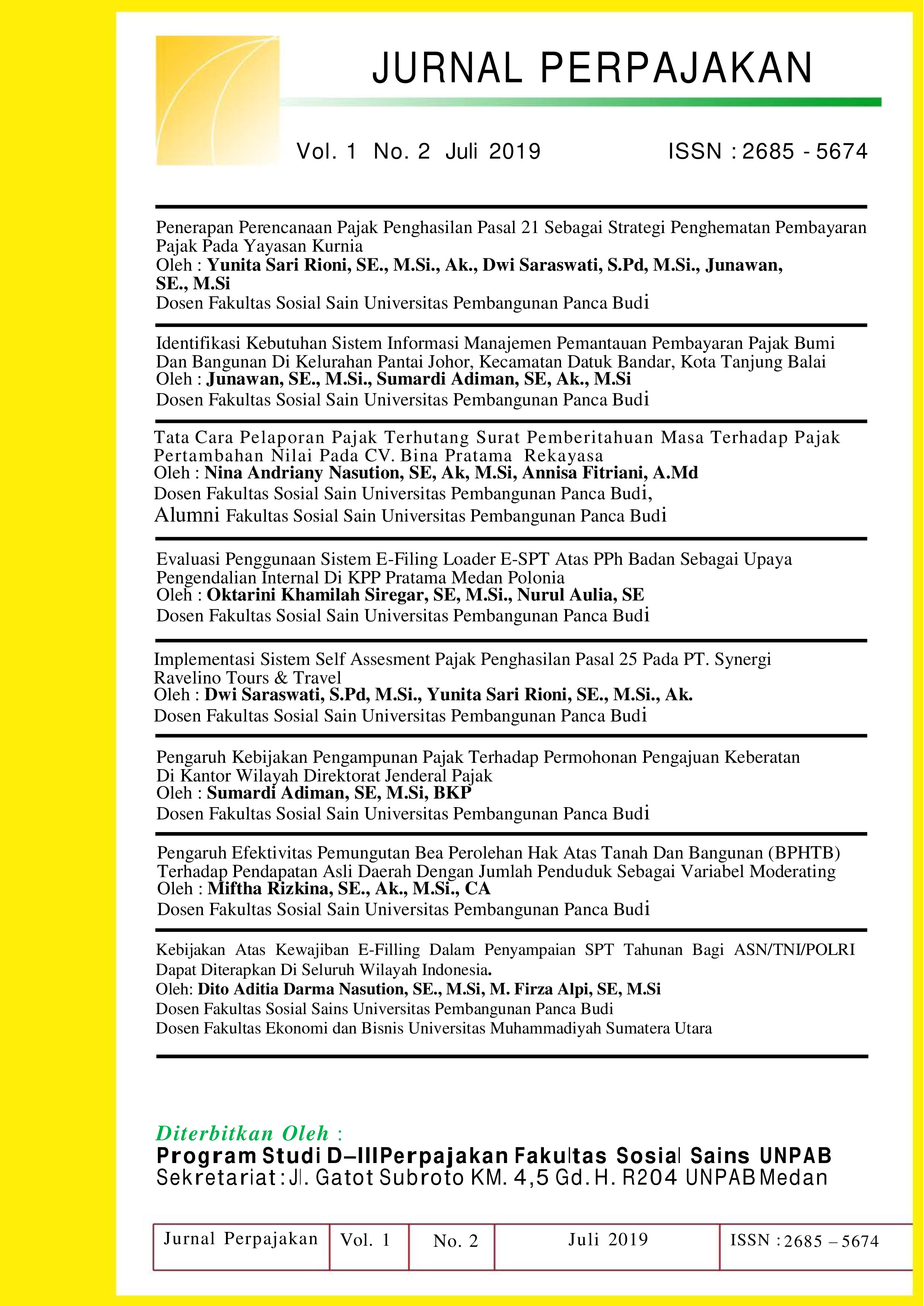 How to Cite
, Miftha Rizkina. PENGARUH EFEKTIVITAS PEMUNGUTAN BEA PEROLEHAN HAK ATAS TANAH DAN BANGUNAN (BPHTB) TERHADAP PENDAPATAN ASLI DAERAH DENGAN JUMLAH PENDUDUK SEBAGAI VARIABEL MODERATING.
JURNAL PERPAJAKAN
, [S.l.], v. 1, n. 1, p. 80-94, aug. 2019. ISSN 2685-5674. Available at: <
https://jurnal.pancabudi.ac.id/index.php/jurnalperpajakan/article/view/566
>. Date accessed: 25 may 2022.